Teamwork has now become one of the strategic factors for the success of your company. The multiplicity of information, the cost and complexity of projects make collaboration and teamwork necessary and almost inevitable.
"64% of employees express the need to collaborate to improve and support teamwork" (Ipsos and Openmind Kfée survey).
Here are 3 commandments to implement good business collaboration practices:
Commandment #1: Focus on simpler communication!
For 39% of employees, collaboration is generally considered "ineffective", due to the lack of effective attention and listening to each employee.
To solve the problem, there are simple and easy to implement methods to facilitate communication and thus collaborate effectively and organized with your team.
Method 1: Use collaborative communication tools
"Everyone's participation is essential to bring ideas to life" Microsoft Teams.
Communication tools such as Skype, Slack or Microsoft Teams will help team decision-making. With real-time communication platforms, even the most dispersed teams will be able to share all their ideas together, comment, ask questions and exchange information necessary to move their projects forward and thus allow the whole team to progress and make decisions more quickly.
Method n°2: Reduce the number of emails
"The abundance of messages has a perverse effect on the employee. 43% of French employees are interrupted at least every ten minutes and 31% admit to being distracted in their work." (Créfac)
One observation: we spend almost 3 hours a day in our mailbox.
Collaborative solutions such as Asana, Trello or Beesy make it possible to reduce the number of emails exchanged by simplifying communication between employees. How? 
By centralizing all important information in the tool
By making all updated information accessible in real time
So there is no need to send synchronization emails to get the latest information on your activity or to discuss your projects with your collaborators.
With Beesy for example, you will be able to go even further by spending even less time in your emails: you will be able to track your important emails directly in Beesy, without going through your mailbox.
In short: You significantly reduce the number of emails exchanged. The publisher Knowings has also estimated that for a company with 200 employees spread over 10 sites, the number of internal emails exchanged has dropped by 30% after having equipped itself with a collaborative solution of this type.
"When we dig, the general problem of managers and their teams often revolves around the overload of information: information spread over several tools (emails, messaging, excel files…) which leads to a loss of information and a lack of responsiveness. So you need a solution that will allow you to manage everything from a single tool to centralize your data and consolidate your information, no matter where the flow comes from."
Commandment #2: Improve the quality of work life and create true team cohesion – focus on the startup Comeet
"Digital transformation has moved us from human resources management to human relations management. A human richness that is part of a more collaborative approach." Jean-Sébastien Chanal, Comeet user – Pre-sales Director / HR Expert at Talentsoft
A strong team spirit is important when working on projects or missions in a group. In general, it is essential to maintain good relations with colleagues in order to feel good about your daily work.
Comeet presents itself as an intelligent assistant talent connector and engaging link builder around personalized events. But how does it work?
Based on the needs, desires and availability of users, Comeet organizes activities for them and allows everyone to create links around common interests. Each person simply chooses the activity they want to do, indicates their availability and where they are willing to go to make the connection. And there's nothing more to do, it's the application that takes care of the rest! The choice of activities is very wide, there is for example: improvisation theatre classes, sharing skills, sports, yoga classes, having a drink or lunch, meditation, cultural outings… Nothing is imposed, everyone makes their choice!
In a few words, Comeet allows for greater overall cohesion with a better atmosphere between teams as well as better commitment and facilitation of the integration of newcomers. With their application, everyone gets to know each other, which improves communication and maintains the desire to work together.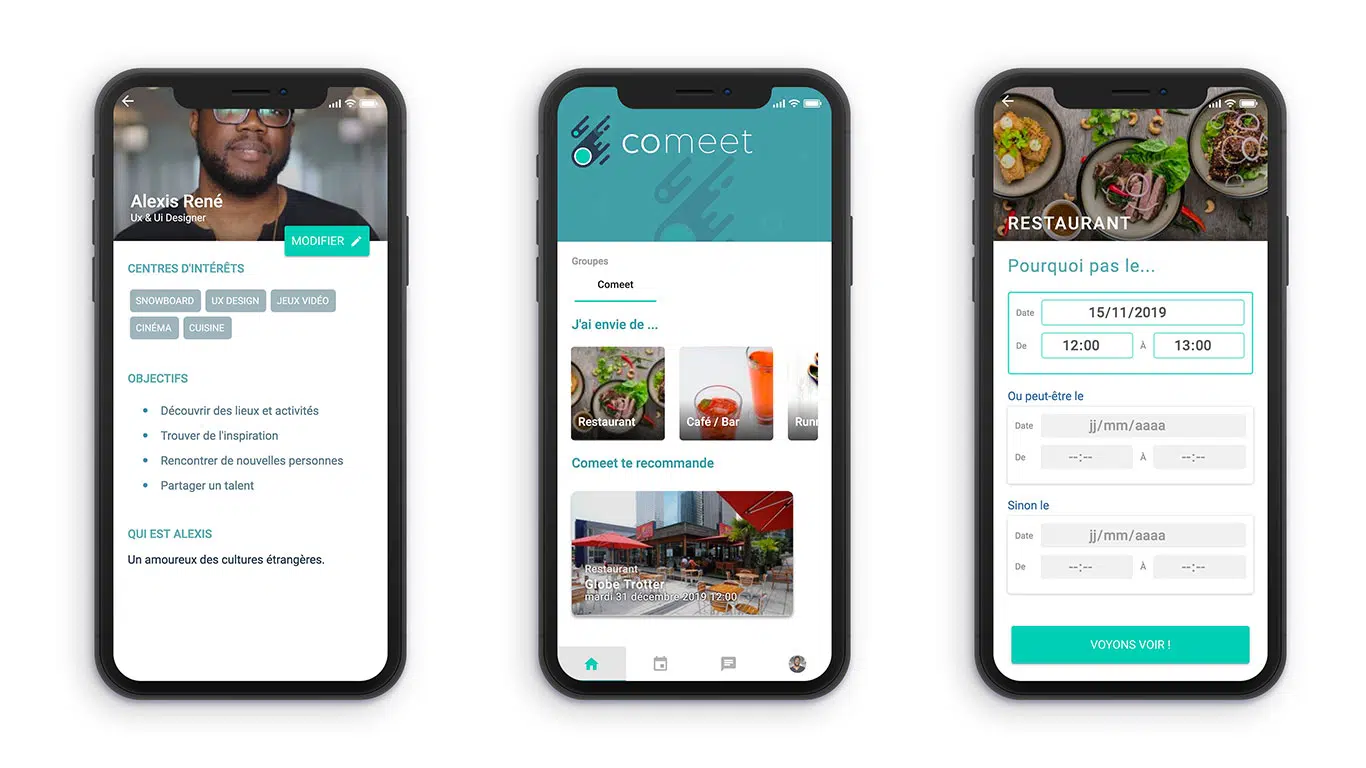 "Since human beings are closely correlated with the growth of companies, we are deeply convinced that social cohesion is the first vector of well-being at work. (…)
Because we live in a world where the virtual has gradually taken precedence over the real, we want to give back its primary meaning to the social link: to create real human exchanges, real connections, to make sure that people meet physically in real life. All this to generate binder, the cement and the essential basis for a constructive and solid corporate culture."
Commandment #3: Sharing common objectives for better performance
"Teamwork is one of the most effective ways to achieve the company's objectives: more ideas, synergy of each individual's strengths and qualities, division of tasks by competence… With clear and shared objectives, each person can work under the best conditions to improve overall efficiency. Collaboration is the key to the success of a company's performance."
It is essential that in a team, everyone finds their place and knows their role and what they bring to the rest of the team. Each individual must feel respected, valued and recognized for his or her work.
It is then up to the team manager to define precisely the objectives to be achieved and to ensure that everyone has a clear understanding of the issues and how to bring their own added value to the project. 
As a manager you can also choose to set individual objectives that will lead to the overall success of the project to ensure the well-being and recognition of each person.
Keys to success to get the best performance from your team:
Set SMART objectives: Specific (precise), Measurable (quantified or qualified), Acceptable (ambitious but attainable), Achievable (a good challenge to be met as far as possible) and Timely (with a precise deadline): whether directed at the whole team or individually to encourage everyone's performance

Recognize the efforts of each individual and ensure the well-being of employees.

27% of working people lack recognition at work on a daily basis, while 90% of employees think that Quality of Life at Work boosts performance (Comeet survey), an element not to be neglected…

Monitor the progress of its employees on current objectives to identify areas of focus and possible improvements to be made

Use a collaborative solution to structure your business with clear and shared objectives between teams; get real-time monitoring and be aware of the "who does what" to ensure sustainable collaboration
As you will have understood, within an organization, teamwork is very important to allow everyone to reveal themselves and to be fulfilled in their work. Identifying good collaboration practices will allow teams to work more efficiently and effectively.
Collaborative work solutions such as those mentioned above can improve the overall productivity of teams and teamwork. The study The social economy "Unlocking value and productivity through social technologies" conducted by Mckinsey showed that collaboration within a company promotes productivity by 20 to 25%.