PROJECT MANAGER
With Beesy, project management made easy !
Control your deadlines, monitor and report effortlessly
Discover Beesy for optimizing your process and be on time day after day
Dashboard
Track the progress of your projects and of your teams' action plans
Project management
Switch between all your different projects easily – Optimize team communication – Track the history of your actions
Access your information even while on the move
Access to information about your teams and customers even while on the move and without an Internet connection
Optimize the productivity of your meetings
You spend too much time in meetings and are tired of administrative reporting tasks?
Significantly reduce the time spent managing your Steering Committees with Beesy's collaborative solution.
Are your sales people used to taking notes during meetings with Beesy? They can also take them directly in an email and send them to their Beesy AI assistant. By doing so, they will receive a professional automated meeting report by email at the end of the meeting, ready to be sent to your project team and clients.
Most importantly, they will have a detailed action plan on expectations, needs and customer planning to steer their project internally.
The result: satisfied teams and customers, thanks to Beesy AI. Nothing is forgotten, everything is managed! You no longer waste time after each meeting writing reports or action lists.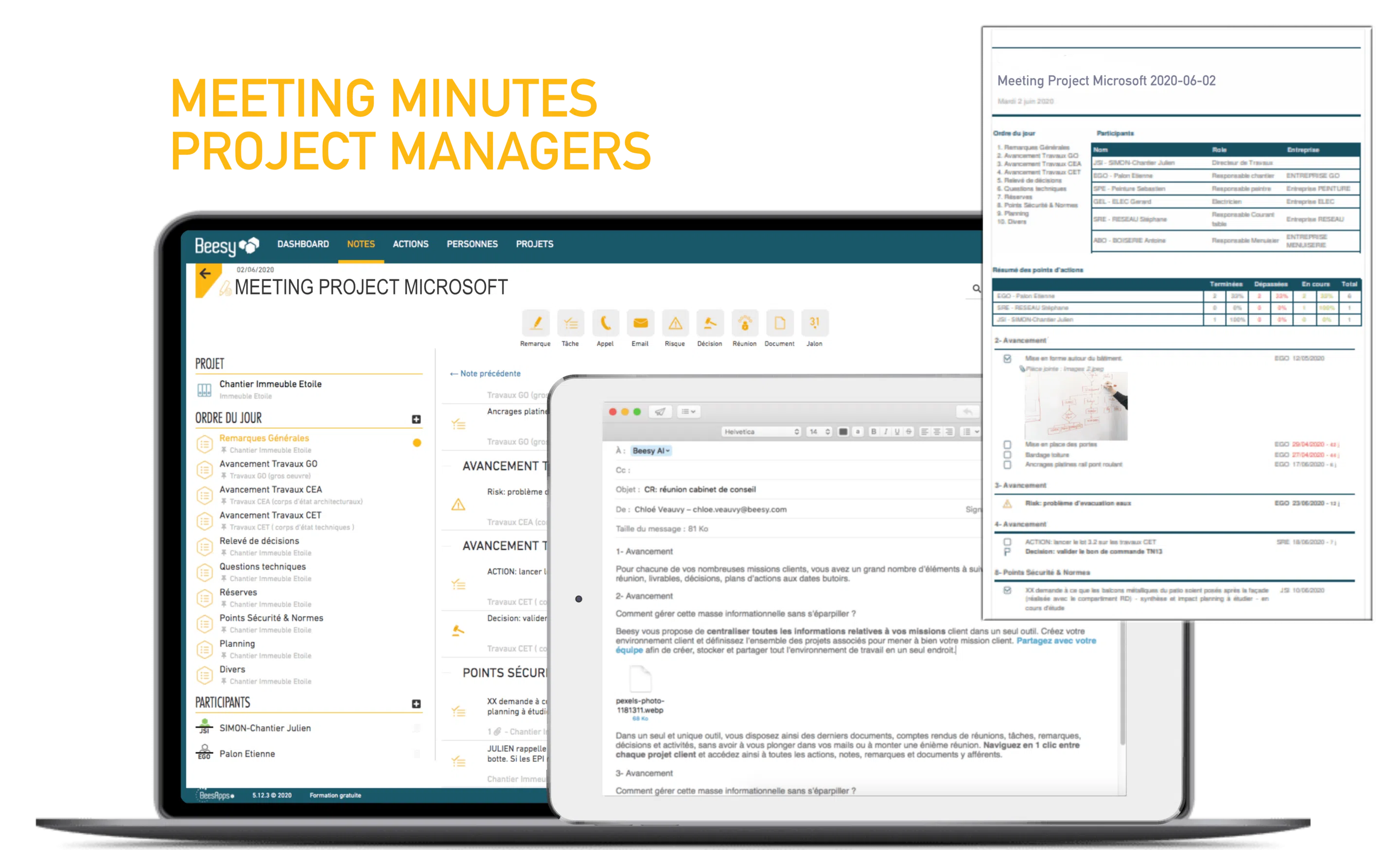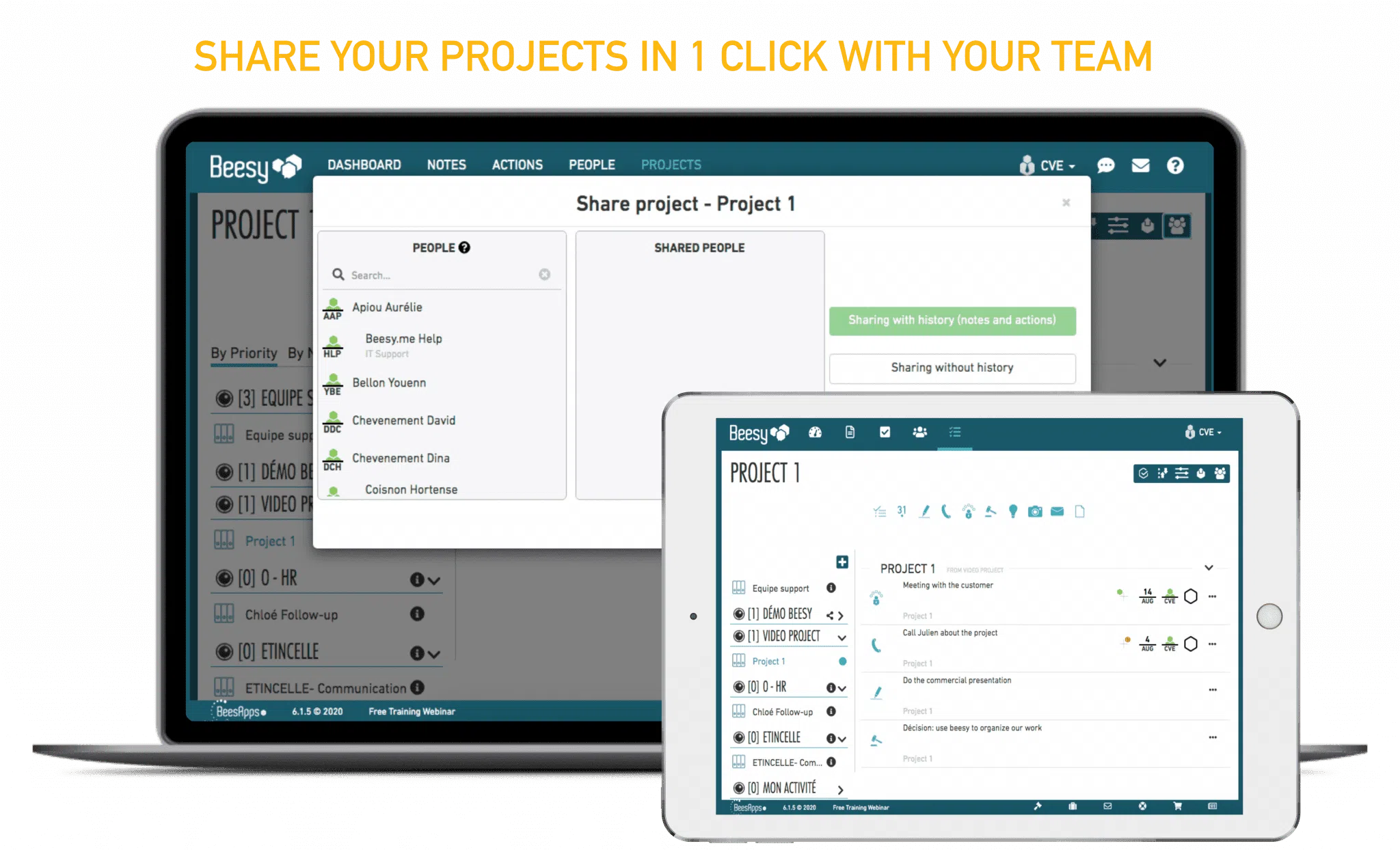 More time for important things !
Don't waste time chasing people around to find out where they stand.
Simply share the project in collaborative mode with your team. This allows each member to keep the project updated at all times.
With a simple glance, you will know in real time where your projects and your project team stand.
With Beesy, you focus on brainstorming and the real progress of the project.
Get your team united and motivated
Beesy improves group communication while significantly reducing the amount of emails received and sent.
Involve yourself directly in the project with a system of notes, remarks and actions; information will be shared with the whole team.
For example, assign an action to one of your colleagues so that the whole project team knows exactly what they have to do and who is in charge of what. You can even assign an action by asking Chatbot Beesy to do it for you from your instant messaging tools. His Artificial Intelligence will assign the action to the right person, for the right project and on the right date for you.
The Timeline or Project Dashboard views allow everyone in the team to follow the progress of the project in real time and react accordingly.
This information sharing gives the whole team a real visibility of what needs to be done, and everyone will logically be more involved.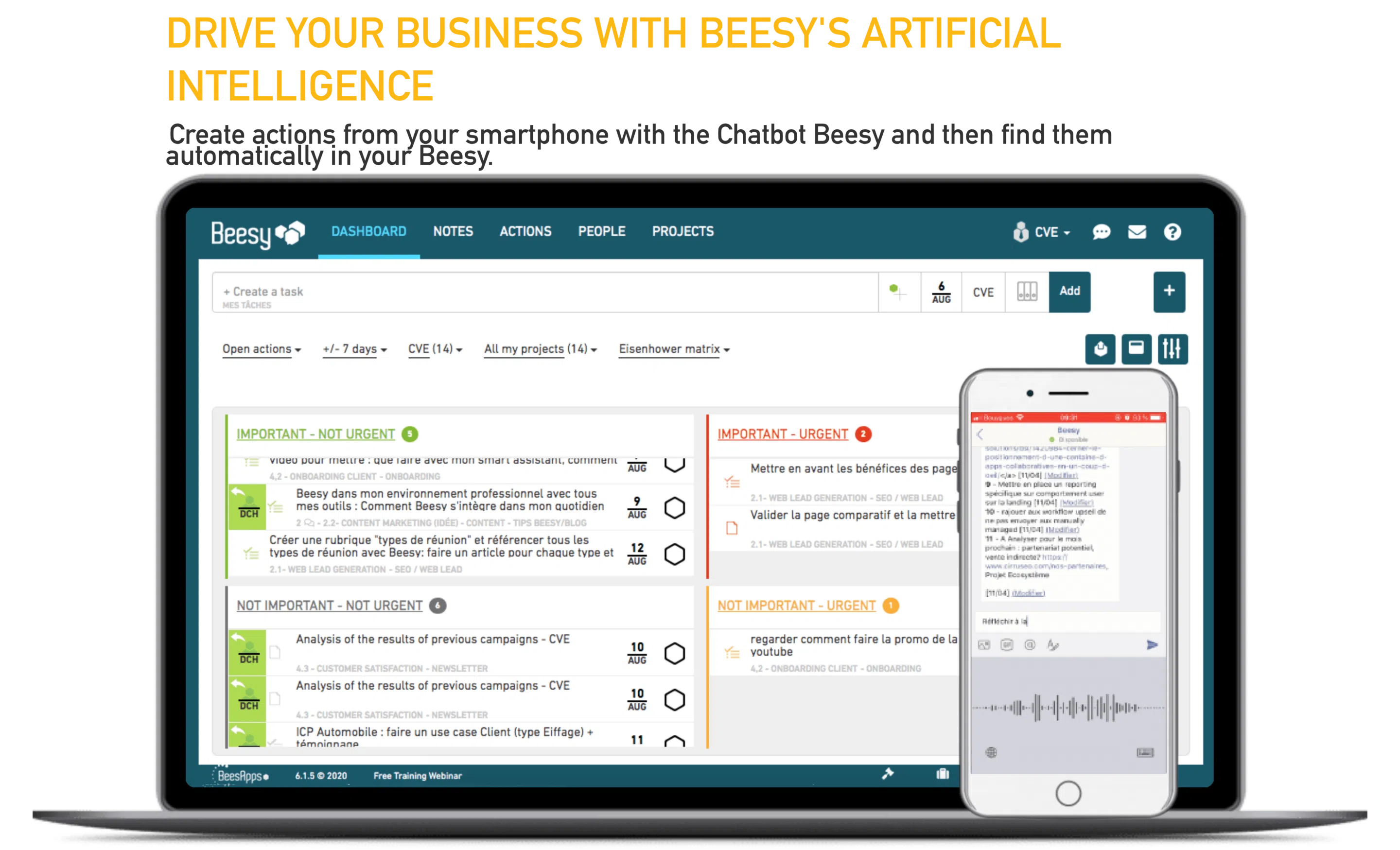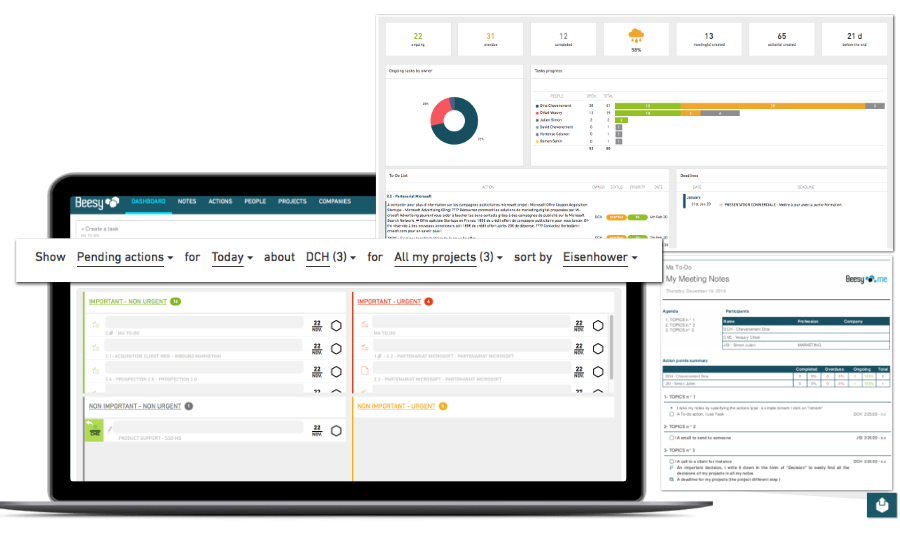 Manage masterfully several projects 
With Beesy, you can switch between different projects without any headache.
The steering tool with its integrated Eisenhower matrix allows you to display your project action plan according to urgency and importance.
Identify risks and issues with a single click and access all the information detailing each action for each project.
Easily view overdue tasks, tasks in progress and tasks already completed. Beesy offers a variety of filters that can display actions by project, person, date, and more.
Also, you can use Beesy's Artificial Intelligence and ask directly to its Chatbot for your action plan, your overdue or most urgent actions, etc.
Discover Beesy for optimizing your process and be on time day after day