Managing priorities, need more insights?
You are already organized: you made your To-Do list, defined your tasks priorities and urgency and set deadlines…
"It is a good start, but how to optimize this ever growing list? "
You don't want to spend hours to manage it.
"What if you could have daily and weekly summaries to streamline your organization. "
"Your list is too long, it is hard to make sense of your priorities. "
Would a visual representation help grasp the overall picture? An efficient reporting tool will help you in your tasks management.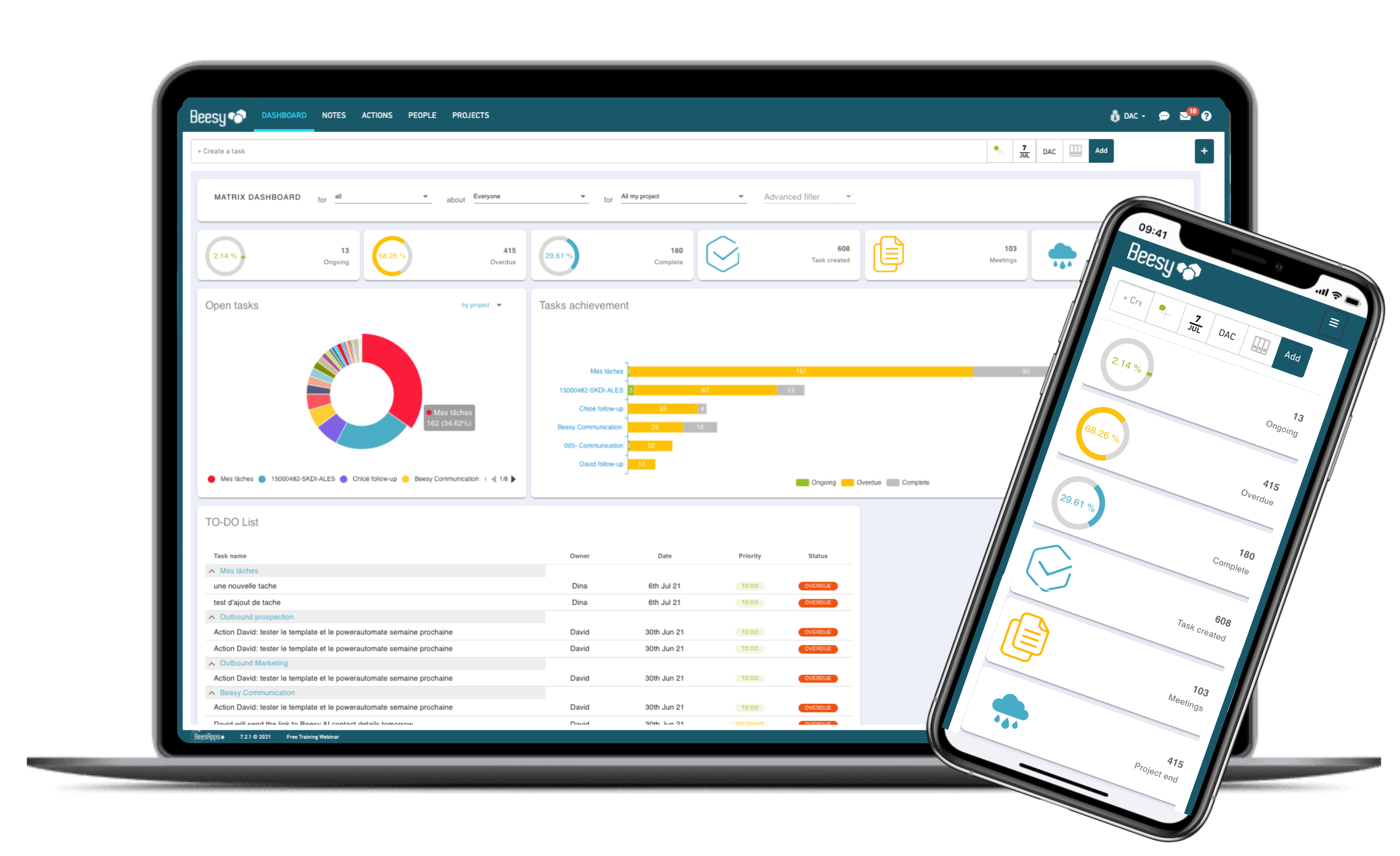 1.
Create reports tailored to your needs with your customizable filters
Manage your action plans with your customizable filters In your dashboard, you have a multitude of filters that allow you to carry out your personalized activity views.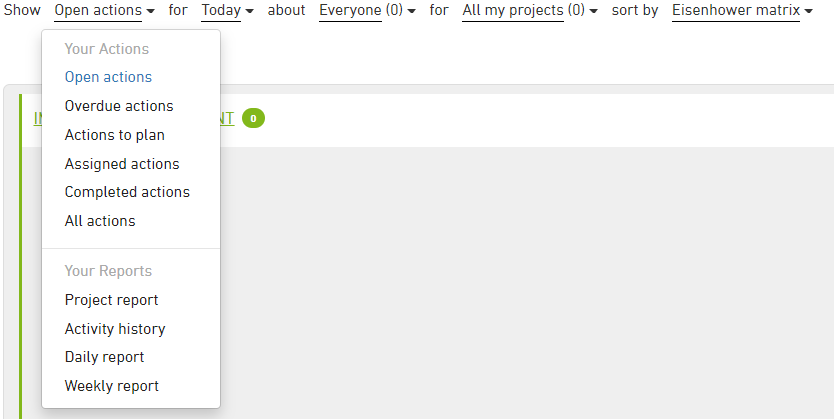 1
Action status or by kind of report filter
Open actions
Overdue Actions
Actions assign to you
Actions completed
All actions
Project report (visual reporting)
2
Select the period you want to analyse:
Today
next 7 days,  +/- 7 Days
next 30 days ,+/- 30 days
a selected period
3
Filter by people, project or goals
You can also get the To-Do List of people to whom you have assigned actions or of all people at the same time. Ditto for Projects: you can choose to display only the actions of a particular project.
4
Display type
Finally, you have the possibility to choose the views, or the context you wan to display your actions plan such as:
Eisenhower's matrix (urgent / important),
Project (actions list organized by project),
Note (actions list organized by meeting),
Action (actions list organized by type of action),
Priority(actions list organized by priority)
Project Report
Visual reporting that allows you to easily manage your activity
MISSION
Create a

Shared Vision

by easily collecting information

Build a

global vision

of the activity through all your daily tools

360 ° visibility

to make better decisions
The solution for your tailor-made operational activity reports
You

build

your

customized

 

reports (widgets and filters)

Beesy

consolidates

all

 you activity action plan

 

from

 

meetings,

emails 

and

chat

Automated

real-time

reporting

Interactive

reports

 

for

detailed

analysis

of

indicators

Shared

reporting

to

energize

and

motivate

teams

Visual

and

graphic

reports
Beesy allows you to easily export your action plans summary, whether as a PDF report, by email, to an Excel file or to CSV.
Getting a action plans summary can be very useful during meetings, follow-up on individual points or simply to take stock of your action plan.
NB: If you don't want some of your actions to appear in your reports, you can simply use the Private option to hide actions.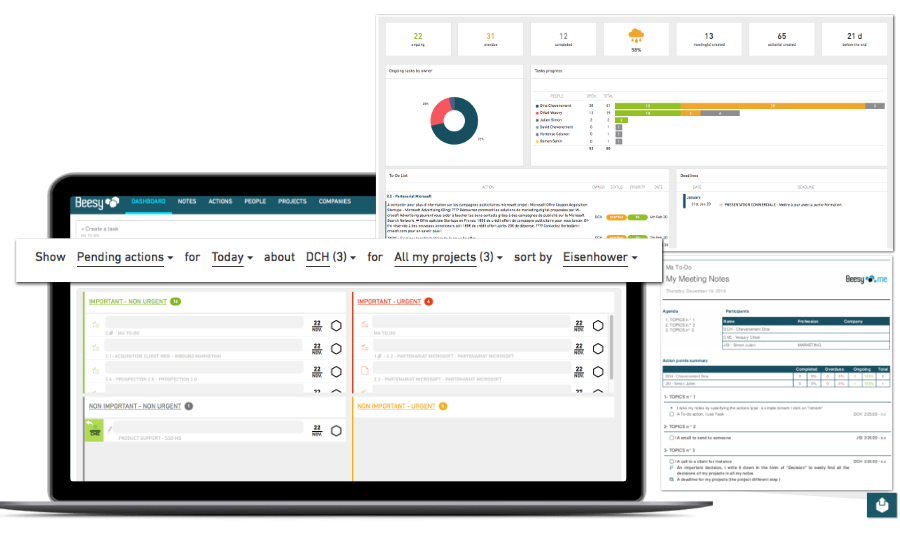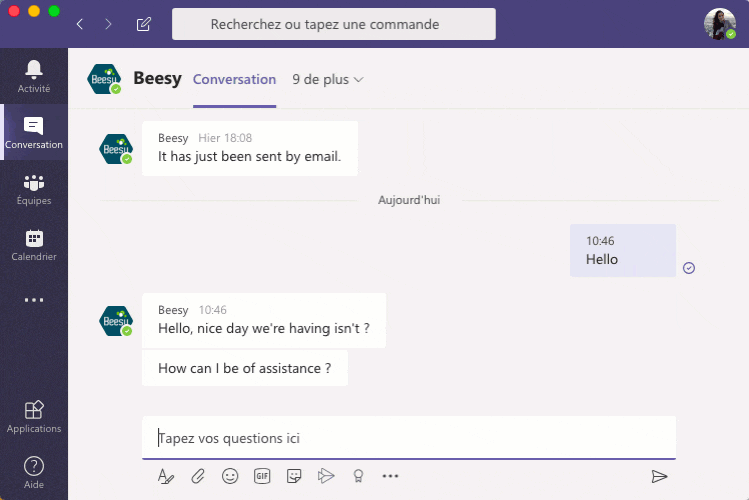 2.

Generate reporting adapted to your needs

Without a project management tool it is almost impossible to accurately track your project data. Moreover, building clear and precise reports is a terribly time-consuming but essential task. That's why you can use Beesy's Artificial Intelligence by asking his Chatbot to create custom reports on :
one of your projects
the action plan of one of your collaborators
your actions of the day, late, urgent, etc.
the people you need to call…
With Beesy, you can use the filter functionality or alerts on very detailed data, so you'll never miss a thing and have a synthetic view by subject of completed tasks, tasks in progress and overdue tasks! In just a few clicks, you will know the status of your project's progress, and you will be able to quickly identify risks and alerts on your project.
Beesy's Chatbot also allows you to get your action plan for the day to have a clear view of your day's schedule.
3.

Daily reporting – set your daily pulse
You don't always need to work with your whole To-Do list all day long. On the contrary, it can distract you, even if you have set your priorities.
Every day, you need to extract a short-list of tasks which usually contain 3 to 5 actions (3 high priority, and one or two other less important, but easier to achieve).Each morning, Beesy send you a daily extract of your tasks for the day. You don't even have to connect to Beesy.
You will also have a list of overdue actions, to quickly identify risks on your action plans and eventually reschedule them.
During the day you just use this mini-list. Using this tracking report, it has never been easier to regularly update your To-Do list!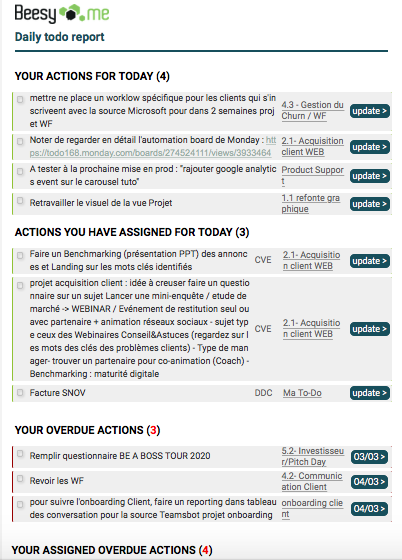 4.

Weekly reporting – Plan your week
With a To-Do list getting longer every day, you need to review it on a weekly basis to make sure you keep it under control. Monday morning is usually the best time.
With Beesy Pro, each monday you will receive a summary of your activity and progress for your projects and resources.
At a glance, you will have an overview:
Completed actions by project and resources.
Overdue actions, and TOP 5 late resources.
So it is easy to quickly identify project risks or overloaded resources.
Take this time to also plan next week with the report:
Check opened actions par project or resource.
Understand where you planned to spend your time.
Book time in your agenda to work on them.
You can also plan a significant results to achieve this week :
Close a deal with a customer, write the next chapter of a book, finish a new slideshow… Using Beesy deadlines is a good way to challenge your project progress.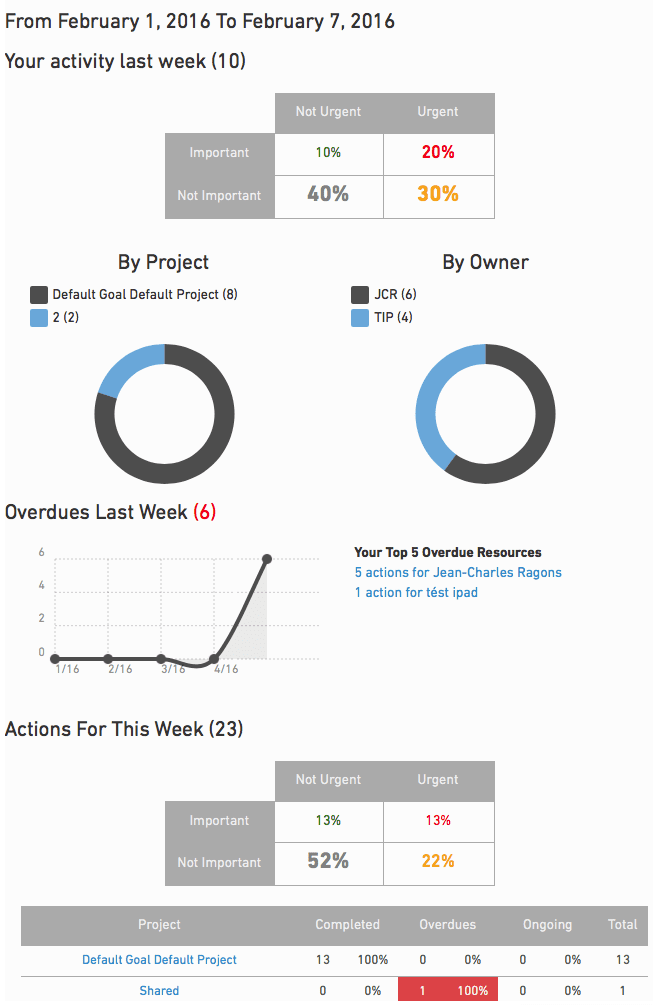 5.

Visual reporting – Project or action plan scheduling
Most of the time,
mid-term planning of your tasks is best done with a visual tool
.
It helps your brain get a clear view on the overall picture while still being able to zoom in on details.
Planning is then just a matter of scheduling actions based one your goals and task durations.
Many times, we tend to overload ourselves with top priority actions. More overload mean more stress and the unsettling feeling to constantly be late.
Looking at your timeline should help you relieve the pressure.A time-based table will help solving this issue.
The Beesy timeline option allows you to easily
visualize all planned tasks and deadlines for a project
.
Each task can be linked to resources and due dates.
Easy to use, quick to update, and instantly understandable by experts as by novices, this visual representation of your To-Do list let you quick identify overloaded days and resources and evaluate risks on your projects.
It is an efficient way to work your daily To-Do list and to take quick decisions.
With those 3 reporting tools, it's never been easier to stay organized all along.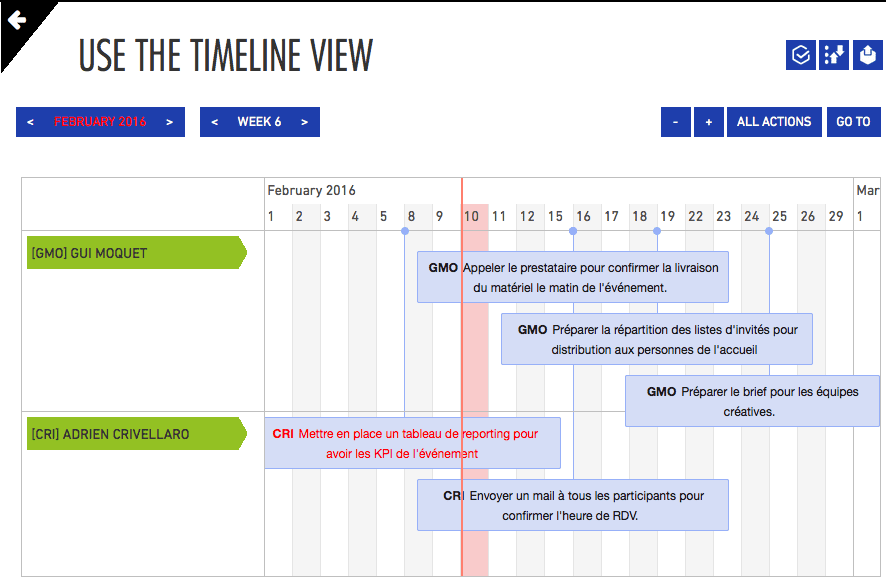 With these 3 reporting tools, Beesy helps you to face up your challenge to stay organized in the long term and not to drop your To-Do list after a few weeks of use.
Discover all the usecases
No matter your issue we have answers