DIGITIZE. SHARE. TRACK.
The All.In.One Solution to Boost your Business Productivity
"The most critical issue I was facing in my job at the time I commenced using Beesy was organizing the many demands of my position and my workload into a clear, concise and visual set of actions. I love the ability to combine actions, notes, messages, etc in one place…" Michael N.
"Beesy is a very fast way to write and handle meeting notes and thoughts. I use a Livescribe pen too. It is very easy to write some words and actions and ideas and questions on paper and have it automatically organized in Beesy. After that i can quickly send an email to all my Coworkers…" Heinz N.
"Outstanding! I wish I would have discovered this app years ago. In that time I have researched and purchased dozens or so organizational tools and have been disappointed with all of them for one reason or another. This is the first app that actually challengers good managers to be better!…" Jim B.

Streamline your daily workflow
Solution for note taking, action follow up, and both team and project management.
Assign actions to team members and share the related context: note, topic and project
Share notes with the meeting participants to keep them in sync on the outcome
Project review
Plan and anticipate your projects outcomes
Organize and share your workspace by goals and projects according to your business priorities
Convert handwritten notes into digital text and seamlessly turn your note into actions
Team goal setting enables a team to clarify what constitutes meaningful results for them
Organize, plan, & prioritize your action plans to quickly implement and save time before each project kickoff
Access from anywhere
Available on iPhone, iPad, iWatch and Web, Beesy works seamlessly across all major devices
to keep your actions in sync.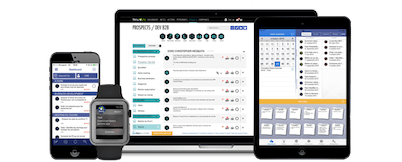 Start your 30-day free trial
No commitment. No payment.
Mentioned and Reviewed by
% of CEOs/Owners

12%

12%

% of Executives

20%

20%

% of Managers

15%

15%

% of Operation and R&D managers

15%

15%

% of Sales Managemers

10%

10%

% of Project Managers

10%

10%

% of IT Managers

7%

7%
Want To See Beesy In Action?