Beesy 
the smart virtual assistant for managers and their teams
Save brain power for your core business
Beesy
your All-in-one Solution 
to improve your daily work
Solution for note taking, action follow up, and both team and project management.
An Up-to-date MAILBOX
without spending so much time
Turn your emails into tasks and saved them in your projects data
Automatically assign tasks to your co-workers


 
Effective MEETINGS
Take charge of your meetings
Streamline your WORKFLOW
Decrease collaborative overhead

Centralized and Contextualized Communications
Real-time Collaboration with your Customers and Teams
Simplified workflows
your INFORMATIONS 1 click
whoEasily find your data while being sure that is the latest version
Documents, mails, meeting minutes, photos …all shared with your teams
A Knowledge base contextualize, categorize by goals and easily searchable
Real time tracking and availability even while without internet connection
A better VISIBILITY of your activity
Simplify your activity management
Do you want to see Beesy in action? Register to participate in one of our free training webinars!
An Artificial Intelligence
to use your Beesy collaborative solution without learning and without changing your habits
Ask for BEESY's Smart Virtual Assistant option, for a simplified handling of the solution. You interact directly with your BEESY Smart Virtual Assistant in natural language. It works from all your daily tools: e-mail, instant messaging, word documents, etc.
Works with:

Beesy & Microsoft Teams
an integrated solution to go further in the management of your objectives and collaborative work
Teams
brings people, conversations and content together to collaborate more easily. 
Beesy
consolidates all action plans and information, meeting notes by person, project and objective.
Their complementarity will save you time in managing your objectives and collaborative work.
"The most critical issue I was facing in my job at the time I commenced using Beesy was organizing the many demands of my position and my workload into a clear, concise and visual set of actions. I love the ability to combine actions, notes, messages, etc in one place…"
"Beesy is a very fast way to write and handle meeting notes and thoughts. I use a Livescribe pen too. It is very easy to write some words and actions and ideas and questions on paper and have it automatically organized in Beesy. After that i can quickly send an email to all my Coworkers…"
"Outstanding! I wish I would have discovered this app years ago. In that time I have researched and purchased dozens or so organizational tools and have been disappointed with all of them for one reason or another. This is the first app that actually challengers good managers to be better!…"
BEESY
Access for anywhere
Available on iPhone, iPad, iWatch and Web, Beesy works seamlessly across all major devices
to keep your actions in sync.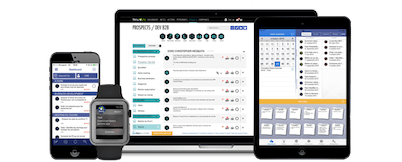 Try-it
Start your 30-day free trial
No commitment. No payment.