A Meeting Minutes Software to run Effective Meetings
If you could save 30 minutes per meeting, would your day be transformed?
You spend a good part of your day organising your work between preparing and managing your meetings, piloting your action plans and sharing and follow-up emails.
In fact, most managers have about 62 meetings per month, or more or less 1,000 hours per year in the meeting room, not counting the time spent managing their actions and receiving a hundred e-mails every day.
And if you could save time in your day to :
Send your meeting minutes in less than 1 minute.
No more retyping your action plans in an Excel spreadsheet or in a email
Easily manage your business with a comprehensive and detailed actions plan
Get professional, effortless Meeting Minutes
Step 1, choose your prefered way to take your notes
Tip #1

NOTE TAKING in Beesy
1. How to write your meeting minutes
With Beesy, take your detailed meeting minutes on different work tools: computer, tablet or smartphone. Choose the tool best suited to the situation!
Enter actions to do, ideas to remember on your tools by identifying the type of action to perform: a remark, a task, a call, an email, a meeting… It's as simple as clicking on the Beesy action bar.
This initial structuring is useful to ensure that your note taking contains all your actions. You can thus visualize your To-Do list at a glance.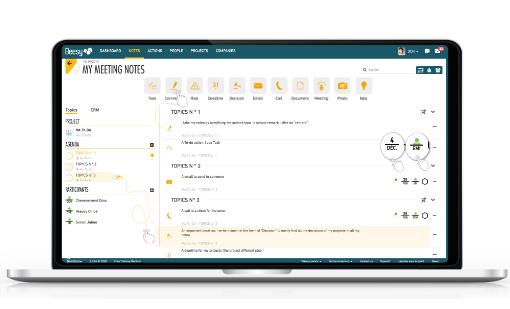 2. Structure your meeting minutes
For professional meeting report, define the different topics of your meeting, you can select and move items from the note into the right topic by simply dragging and dropping.
Assign your tasks to the right people, specify the wished target dates and change the priority if necessary.
If you have defined projects, each topic or task can be associated with one of your projects.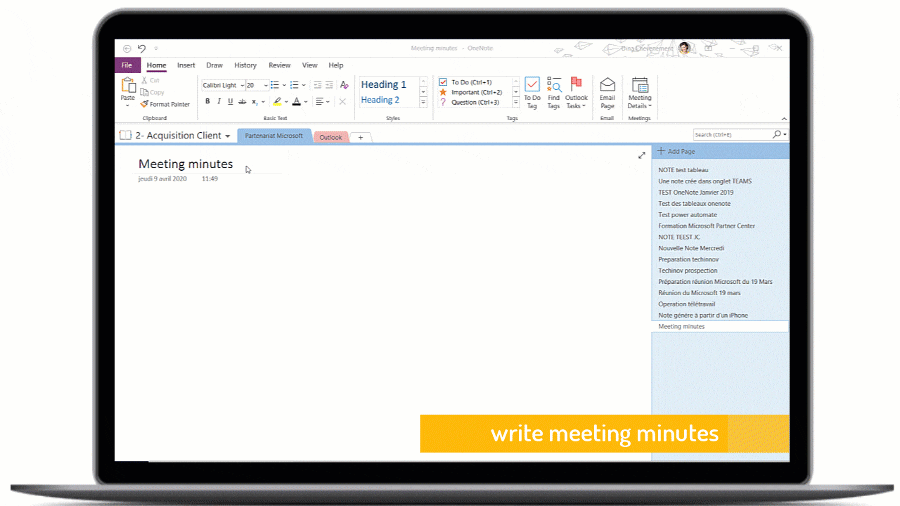 Tip #2

NOTE TAKING From your emails, or Microsoft OneNote, or word
Take your notes as usual, on your preferred tool : email, Microsoft OneNote ou a Word
At the end of your meeting send your notes directly to your Beesy smart assistant to go even faster.
Beesy's Artificial Intelligence structures and analyzes the email for you. It will automatically identify action plans, participants and topics for your meeting.
Beesy transform your notes into a structured meeting minutes with an automated actions plan.
And there you go, effortlessly and without retyping,
you get your professional meeting minutes
1. Your meeting minutes is ready
In less than a minute, you'll receive your automated business meeting minutes from Beesy by email, which you can then share with the people involved.
With a simple but professional layout, it summarizes all the actions to be taken and the significant information from your meetings.
2. Your To-Do list is up to date
Without any re-entry, you can manage your actions by date, by person, by priority or by project.
Use Beesy's "Actions" view, which groups together all the actions you have entered during your meetings or on the fly.
Use the "Dashboard" view to manage your actions on a daily or weekly basis.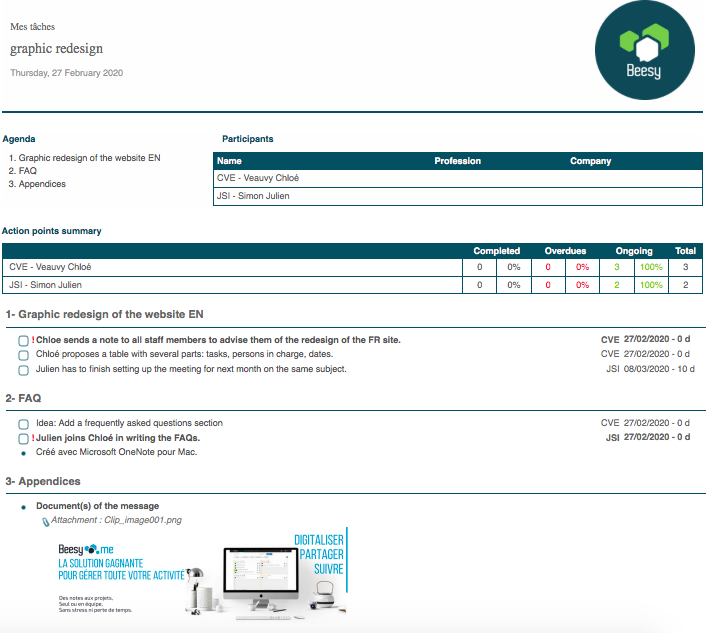 3. Your projects are up to date
Without any retyping, Beesy updates your projects with all the actions to be carried out and all the information relating to your projects.
When you associate a topic, notes or tasks to a project, in the "Project" view, you get the consolidated view of all this information.
This way you can follow a project with just a few clicks instead of spending hours searching your emails and notes for the latest information about your project.
4. The distribution of your tasks is automatic
In the "People" view, you get the To-Do by person, provider or customer: this view groups together all the tasks that you have assigned when entering your notes or actions.
If you wish, the person concerned will receive an automatic e-mail with the action to be performed.
All you have to do is use the different views of Beesy to manage your activity and your daily reports.
Run efficient Meeting with Beesy
Write profesionnal Meeting Minutes
Easily Share and communicate your meeting notes with your team
Track and manage your meeting action plans
Try-it
Start your 30-day free trial
No commitment. No payment.