Consulting firm
Exceed your customers' expectatins by re-inventing the management of your missions with you team.
Manage your missions, transform your collaborators' productivity and automate your processes with Beesy
Discover Beesy to optimize the management of your customer missions
with your team
Focus your consultants on their business, simplifying their administrative tasks: a customer meeting, a single tool to manage reports, the action plan and important information. A time saving also for you and your managers: you have a complete and real-time vision of the progress of your missions, the actions to be carried out and the management of your customers.
Dashboard
Track the progress of your customer missions, save time following the follow-up of your delegated actions
Client Management
Manage all your customer exchanges – Optimize communication with your customers – Monitor your relationship history
Access to your info even on the move
Access information about your team or customers even on the move or even without an Internet connection
A complete and structured vision of your customer missions
For each of your many customer missions, you have a large number of elements to follow: meeting minutes, deliverables, decisions, action plans on deadlines.
How to manage this information tsunami without spreading?
Beesy offers you the possibility to centralize all the information related to your customer missions in a single tool: create your customer environment, define all the associated projects to successfully complete your customer mission. Share with your team to create, store and share the entire work environment in one place.
In a single tool, you have the latest documents, meeting reports, tasks, comments, decisions and activities without having to dive into your emails or set up yet another meeting. Navigate in one click between each customer project and access all related actions, notes, remarks and documents.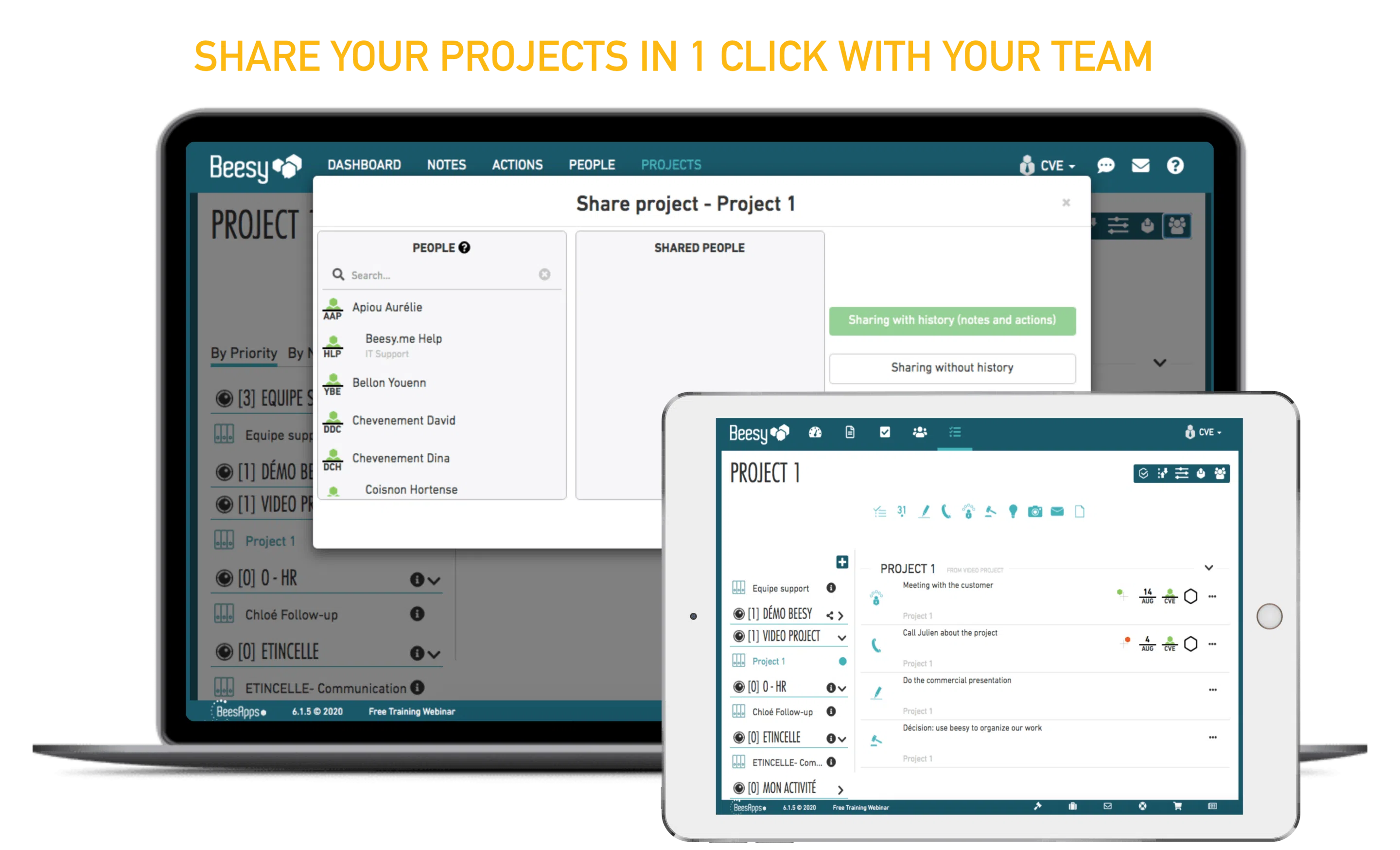 Effective meetings: easily access and monitor decisions made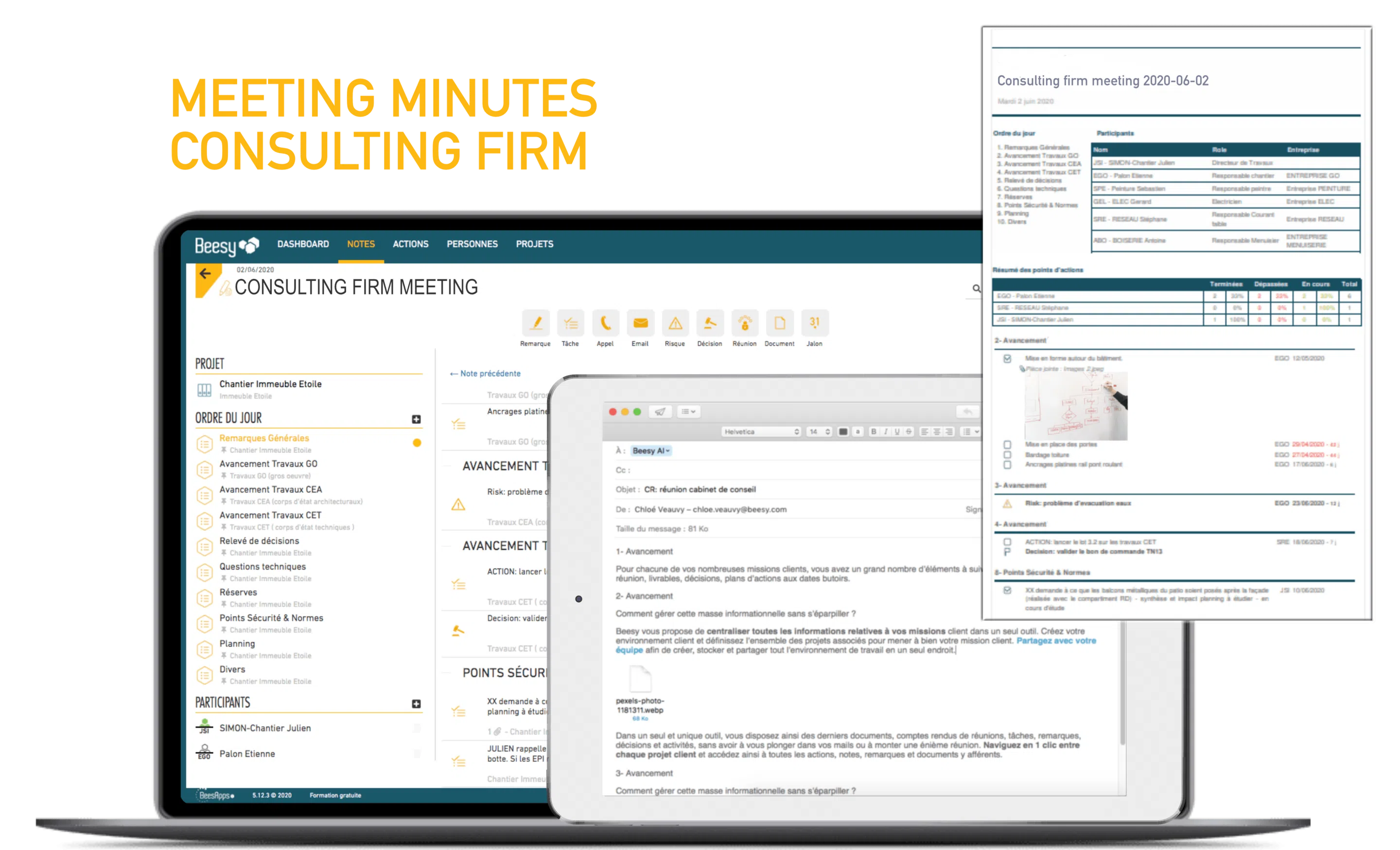 Do you dream of 100% productive meetings?
Manage your customer meetings and operational committee with Beesy to record decisions, tasks and set up a tracking system for all actions. With just one click, share your notes simply with your customers and internal or external teams to facilitate communication.
You have just come out of a meeting, the information is already sorted, the actions assigned to your teams and the report ready to be sent. You no longer waste time re-entering your action plans or a report after each meeting. But above all, you have a detailed action plan on expectations, needs and customer planning to manage your project.
Satisfied customers, thanks to the management of customer expectations in Beesy: nothing is forgotten anymore. Everything is under control! 
Recurring meetings? Avoid scattering yourself on your previous topics each time and take up the action plans defined above directly. Create recurring meetings in Beesy, you will get as a "digital notebook" where you can scroll through the pages corresponding to each meeting with decisions and action plans. You no longer waste time analyzing past facts and results, but will go directly to the essentials of your customer meetings.
Manage the progress of your missions without effort
You spend a lot of energy managing your action plans: filing about a hundred emails a day with documents and information about your customer missions, many meetings in a busy agenda to consolidate information. You do not have this time, but you need a global vision to determine the progress of your missions and anticipate risks?
With Beesy, switch between your different customer missions easily. Plan all the actions to be carried out to satisfy your customers and guarantee the quality of your missions in Beesy. You can thus set for each action, subject or project, the priority and urgency of it. Define priorities for action and decide between planned work (daily) and urgency (crisis) according to objective criteria.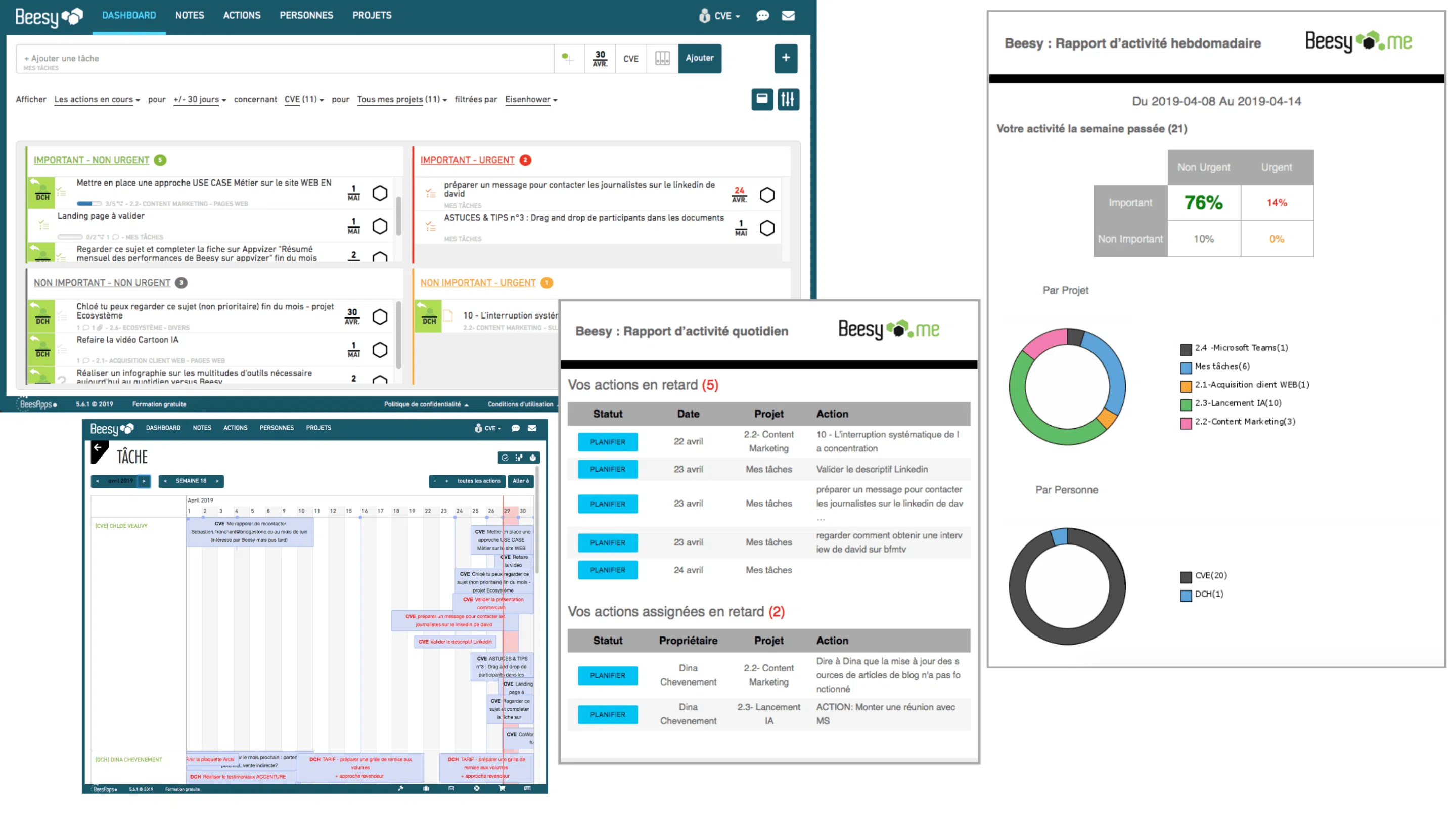 Beesy is a collaborative platform integrating management tools that allow you to easily evaluate the progress of your customer missions by having access to information shared in real time within the team. This management tool with its integrated Eisenhower matrix allows you to display your action plan by mission according to urgency and importance. Identify risks and issues with a single click and access all the information detailing each action in your customer missions. Easily view late tasks, current tasks and tasks already completed.
You can use the filter or alert functionality on very detailed data, which will ensure that you never miss anything and that you have a synthetic view by subject of the tasks performed, the tasks in progress and the tasks that are late!
One-click reporting, an analysis per customer project / per consultant in real time to guide your team and adapt you at any time. Information accessible wherever you are between 2 offices or on the move, even without an Internet connection.
Do you dream of obtaining personalized reporting of your activity? Beesy takes this task off your hands by sending you the reporting you want by email. Just ask him directly via your instant messaging tools with his Chatbot.
He will send you an analysis per customer project/per consultant, in real time, to guide your team and adapt you at any time. His Artificial Intelligence meets your needs so that you can save time to refocus on really essential things.
Information accessible wherever you are, even between 2 offices.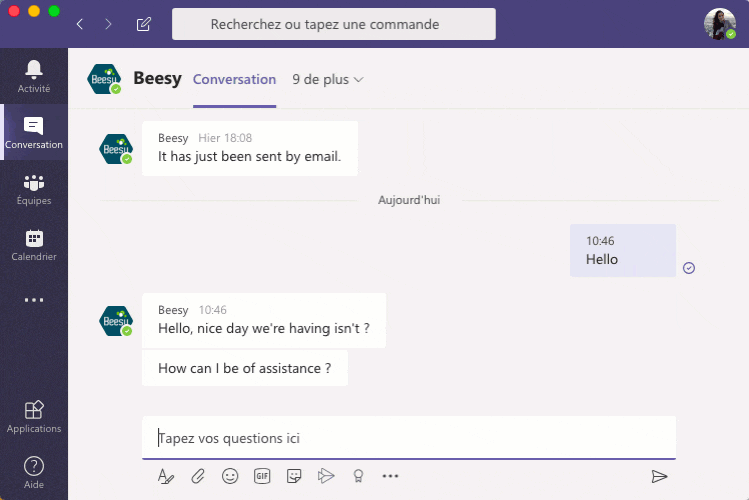 Manage the activity of your consultants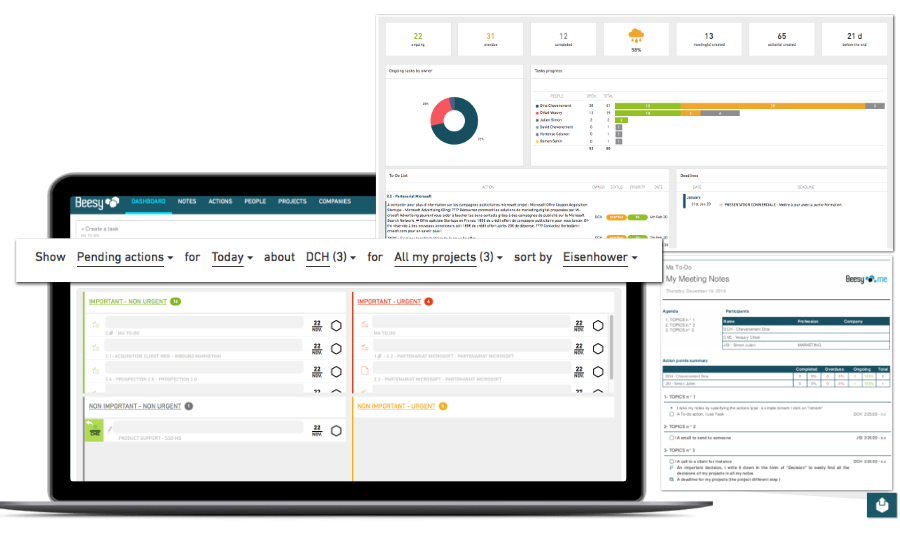 Make communication flow better within your teams of consultants thanks to Beesy.
Plan all the actions to be carried out to satisfy your customers and guarantee the operational quality of your solutions in Beesy. Beesy is a collaborative platform that allows you to track the progress of your missions and objectives by having access to shared information in real time within the team.
But you can also view all the actions for each of your consultants. Assign actions to your team members by missions. The assignment of actions can be done from your meetings, directly in project mode, or in one-to-one review. In order to control your schedules, you can define the priorities and deadlines of your action plans for your consultants. On Beesy, per action, you specify whether it is urgent and/or important; and the priority of the subject or project, to which it is assigned. Know easily where your consultants stand by following the progress of tasks in Beesy's different views. Monitoring can be carried out by project/mission, priority action or type of action. You can see all the actions carried out, in progress or late at a glance. The risks and challenges are clearly identified by each of your consultants, for a better control of their workload, to guarantee your deadlines and the satisfaction of your customers.
Automate your processes and support the efficiency of your consultants
Unify your customer project organizations by creating project and meeting templates in Beesy. For example, make sure that during project launch meetings, your team identifies all the issues and thus carry out an exhaustive qualification of your customers' expectations. To do this, create your meeting templates containing all the elements to be completed and their standard procedure.
Optimize and standardize your project processes by creating project templates on the different types of assignments performed by your firm.
Capitalize on all good practices: update your templates at any time. Integrate your project documents to ensure that the latest versions are used correctly. They will be distributed in real time to the teams.
Discover Beesy to optimize the management of your customer missions with your team