Would your day be changed if you could save 15 minutes per meeting?
Most managers have about 62 meetings a month.
That's 1000 hours spent in a meeting room every year, and everyone of them takes up some of your time to write down the minutes and track the action plan.
What if whatever the way you take your notes you could :
Create meeting minutes in just a single click.
Not have to rewrite your action plans to share them through email.
Manage your activity from your meetings.
Beesy makes it possible, without any effort
First stage: Easily take your notes or actions
With Beesy, you can capture your data with different tools: Laptop, tablet, smartphone or connected pen. You choose the appropriate tool for each context.
The PC, iPad or connected pen are easier for taking notes.
And your smpartphone will be more useful to quickly capture an action to do or an idea to remember.
While you are taking notes you easily tag what is a remark, a task, a call, an email, a meeting…
It is as simple as a click on the Beesy tool bar.
Structuring your notes is an easy way to turn raw text into a structured collection of actions and decisions.
At a glance, you will then be able to browse your To-do from different angles.

Second stage: structure your actions in a minute
For professional meetings minutes, define different topics for your meeting, then you can drag and drop actions into the right topic.
Assign an owner to actions, set deadlines and priority if necessary.
If you define projects, each topic or action can be assigned to one of your project as well.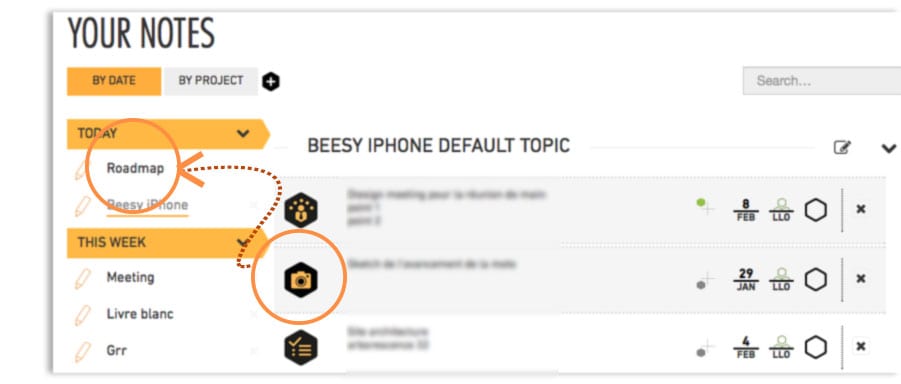 Well Done! You are now organized with no effort and rewriting
Your minutes are ready
In a click Beesy allows you to instantly send the minutes of your meeting.
With a simple but professional layout, your minutes sum-up all the actions to achieve and the relevant information of your meetings.
Your To-Do list is updated
Without any rewriting, Beesy automatically create sortable To-Do list by date, by people, by priority or by project.
Simply use the "Actions" tab of Beesy which include all actions planned during your meetings or on the fly.
To organize the actions of your day or week, you can also use the "Dashboard" view.
Your projects are up-to-date
Without any rewriting, Beesy updates your projects with the actions to achieve and all the information related to your projects.
Assign a topic, a note, or tasks to a project, and in the "Project" tab you will get a consolidated view of all this information.
You can follow-up on a project in a few clicks instead of pending hours looking for the latest information in your emails and notes.
Your tasks are automatically shared
In the "People" tab, you will get the To-Do per person, partner or customer: indeed this view contains all the actions you have been assigning to someone no matter where you added it.
Now just use Beesy's smart views to manage your activity and create reportings.
Discover all the usecases
No matter your issue we have answers