Access from anywhere
Available on iPhone, iPad, iWatch and Web, Beesy works seamlessly across all major devices
to keep your actions in sync.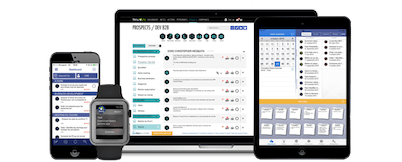 A Real Business Web, Iphone and iPad To-Do solution for Really Busy People
Beesy is specifically designed for business people that handle team or projects on a regular basis.
It was designed as a time saving tool for various business situation:
save time in meetings with easier note taking and decision logging
save time right after the meeting with instant and professional meeting minutes
save time in the follow-up process with automated To-Do from your notes.
If you have experienced days full of meetings with customers, project follow-up or people review, Beesy is made for you.
Beesy can help anyone with a large number of meetings every week track their To-Do and follow-up on them.
It was designed to suite the needs of:
Managers of team that need to assign task to a large number of people and be able to efficiently lead their team
Project managers that handle a large number of project and need to be able to efficiently switch from one to the other
Sales people that handle a large number of customer and need to be able to efficiently serve them in the best possible way
Any other job position where meetings play an important part in your To-Do list, as Beesy will save you a lot of time by automatically generating your Todo list and follow-up on it.
Try-it
Start your 30-day free trial
No commitment. No payment.
% of CEOs/Owners

12%

12%

% of Executives

20%

20%

% of Managers

15%

15%

% of Operation and R&D managers

15%

15%

% of Sales Managemers

10%

10%

% of Project Managers

10%

10%

% of IT Managers

7%

7%