Manage my action plans achievement with no effort: impossible?
You can spend a lot of energy in project management. You probably spend a lot of time each day sorting emails, documents and informations linked to your project.
You have to list all your actions in an excel file and you have to evaluate the progress regarding each task in your project in order to foresee the project outcome. These files are updated during long unproductive daily meetings.
Managing such a file requires an elephant memory to grasp the complete picture.
This method often reach its limits!
You don't have time to maintain such a system but you still want a global vision to plan you project and identify risks ?
The solution is to use a collaborative management tool to let you
1. Easily gather actions to achieve
With Beesy, you can gather your informations in a single place, anytime, anywhere, regardless of your devices: martphone, Laptop, Tablet:
meetings notes
documents
tasks…
Schedule the actions you have to achieve.
Assign people to actions during your different meetings:
one-on-one
calls
project committees
executive meetings…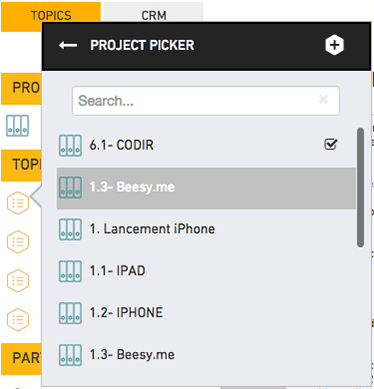 2. Highlight your urgent issues
Define your action priorities and choose between planned work and urgent issues according to objective factors.

Complex project might require an Agile method to create iterations, and structure them with subprojects and define priorities for each subproject.

With Beesy, you can assign each actions to projects and set its urgency.

Define those complex projects as Goals within Beesy: define your project iterations, creating several sub-projects with different milestones.
3. Automate your communication to better collaborate with your team
To succeed, the project team will need to know the project progress and to have a real-time view on actions to be done and their timeframe.

Sharing your project in collaborative mode will ease the information flow with your team. It can be the same with your customers and your partners who could also be added to your project.

It will engage your team to actively participate in the project management.
Moreover, it will bring you a real time-saving environment by automating your information workflow.
4. A reporting fitting your needs
Without any management tool, it is almost impossible to precisely track your project. Building clear reports is very time consuming but essential.

With Beesy, you can use filters that will allow you to never miss anything and to have a synthetic vision by subject on completed actions, actions in progress and overdue tasks.

You will know in a few clicks the progress of your project and you will able to identify risks and issues.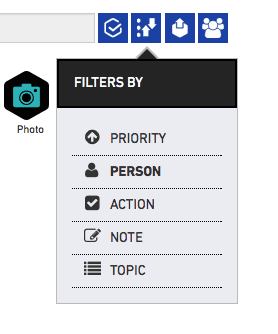 Discover all the usecases
No matter your issue we have answers