Beesy.me Pro: A Meeting Minutes Software
Beesy.me works as a Meeting Minutes Software
Meeting Minutes are necessary but time-consuming. Very few people enjoy doing it and it often ends being slovenly written, days after the meeting.
The problem is that meeting minutes are not to be neglected. As a matter of fact, Meeting Minutes are the material result of a meeting that enables the follow-up on a project or even a whole business.
This is why Beesy.me lets you export automatically your Meeting Notes as Meeting Minutes. Your Beesy turns into a Meeting Minutes Software.
This way, thanks to Beesy, once your Meeting is over and you have organized your Notes with the Drag & Drop if needed, you can directly export and send the Meeting Minute to the participants right after the Meeting.
Export Meeting Minutes and Reports
Exporting a Meeting Minute from your Meeting Notes is easy and can be done in few clics.
From the Note tab, select a Note on the left and then click on the Export button on the top right of the interface.
Then you can select the format for the Minute (.pdf, .xls, .csv, mail) by clicking on it.
When you export to Mail, It will send a Mail to all the participants if their mail are correctly filled in their Contact information; you can also add other mail addresses if needed.
You can also export Reports from the other Tabs (Actions, People and Projects). You just have to go to one of these tabs and click on the Export Button. It is the same process as for the Notes and the Reports are structured the same way.
Each Minute and Report has your signature that you can custom from your settings.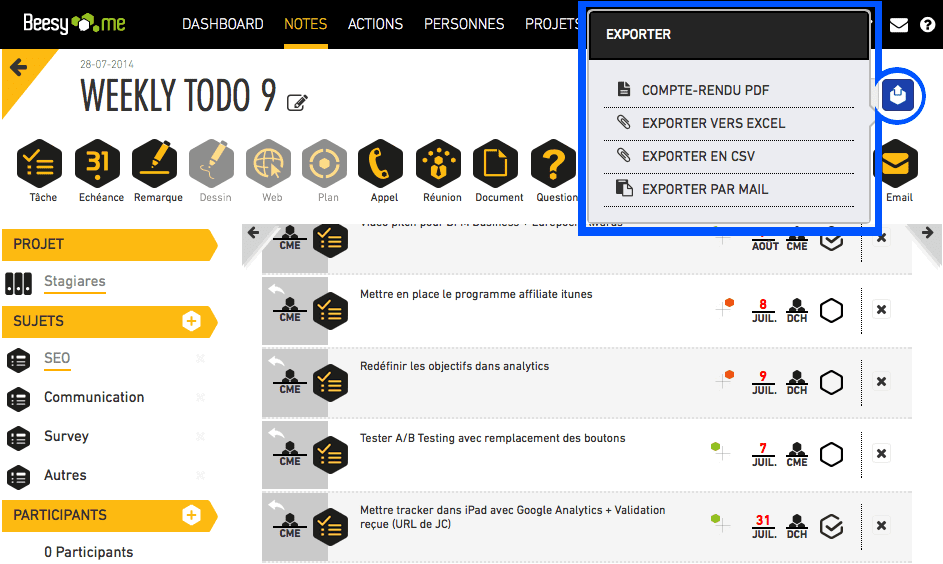 Beesy, as a Meeting Minutes Software, allow you to export Meeting Minutes following an effective Meeting Minute Template.
The Minutes are automatically generated from the Notes taken. Since the Notes are structured with Actionable Items, assigned to People, Projects, Topics, Deadlines and Priorities; the Meeting Minutes Software is built to integrate automatically all these information within an optimized Meeting Minute Template.
The Meeting Minute Template is structured around the Note Topics. Then all actions (except for the private ones) are sorted regarding the participant assigned and the deadline.
For the Reports, the template is based on the Meeting Minute Template expect that Actions are sorted by People instead of Topic for the Action and Project Tab.
For the People Tab, you can choose a collaborator and export all its actions sorted per Notes within a Report.
Note that all the context (project, Note, Goal, etc.) is displayed at the beginning of the Minute or Report and attachments related to the Actions are also integrated to the Minutes and Reports and displayed at the bottom of the document.
Example of a Meeting Minute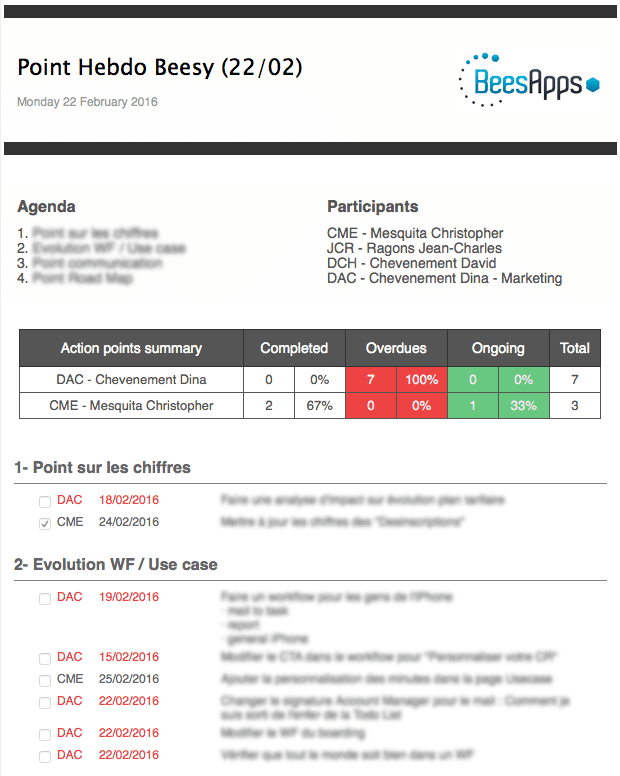 Discover all the usecases
No matter your issue we have answers