The consequences of not having a teamwork tool
"Varied and disconnected tools from each other inevitably lead to a waste of time."
When the company doesn't have an appropriate tool to manage its collaborative activities, it often finds itself confronted with some issues:
Waste of time processing information
Duplication of tasks
Collaborative overload
This bad adaptation slows down productivity in your company, creating a repetition of efforts. Who has never found himself performing the same mission as another person because of a lack of communication?
1) A significant part of the work of an executive is dedicated to the use of information   
Overwhelmed with information from all sides, managers have difficulties identifying the right and adequate information, so they invest up to 3 hours a week looking for it. These unsuccessful searches and the consultation of unnecessary information can have an impact on the company's turnover.
In addition, according to Network World magazine, a significant part of the work is related to creating information and, in fact, recreating what already exists. For companies, this means an additional layer of time and effort in project management. 
2) The task is likely to become more difficult over time, according to Forrester: "the amount of information in organizations doubles every year"
The cost of missed opportunities should not be overlooked, due to the inability to find strategic information at the right time. The unmet objectives cost companies 10% of their overall budget and the main causes are the lack of communication and organisation.
3) Finally, in companies, daily tasks are enormously repetitive: this can lead to an overload of team work
The overload of mail as well as the abundance of meetings are expensive. It is estimated that a manager spends 28% of his activity processing his emails and in addition 42% of them contain, at the time of receipt, information already obsolete.
The manager also spends an average of 2h30 hours a day in meetings, knowing that only 1 meeting out of 2 is really "productive", according to an OpinionWay study. Not to mention the time he can spend to do the reporting of his activity.
All this « information pollution » has the direct consequences of paralysing the decision-making process, hindering the proper functioning of the company and all this has a significant cost for the company.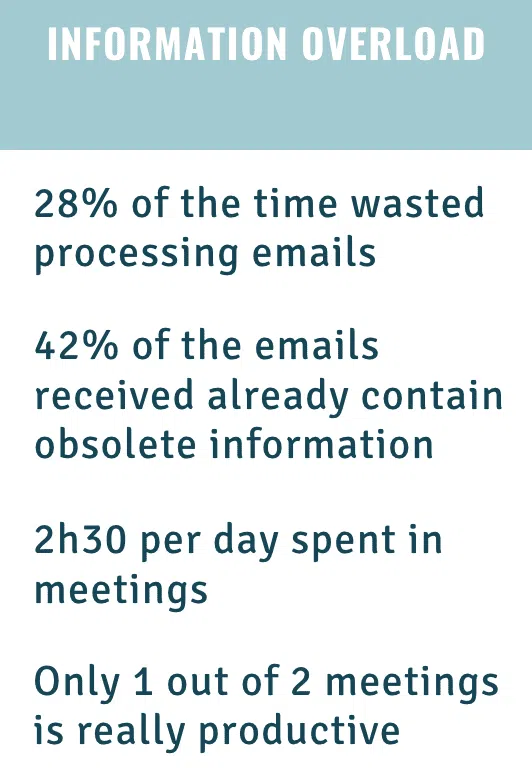 These 3 issues can damage the company's culture and discourage your best members, as employee productivity is hampered. They have an impact on the teams and on the company's business.
The challenges of team work
For 25.3% of the population surveyed, the most relevant advantage of collaborative work in companies is that it allows a better quality of work on a daily basis. (Source: Mindjet)
By working in collaborative mode, you will be able to:
To do this, simply set up a teamwork tool within your teams and make sure that the information is well centralized; that is, that everything is stored in the same place and that the progress of a project can be consulted by all the members who take part in it. The efficiency of the management of your projects as well as the visibility of their progress is increased thanks to the support of a collaborative management tool.
The study The social economy: "Unlocking value and productivity through social technologies" led by McKinsey, shows that collaboration within a company increases productivity by 20 to 25%!
Save time on communication
It is estimated that only one meeting out of two is truly productive. Collaborative work avoids synchronization meetings and simplifies communication. The share of information between employees and the update of what has been decided at past and future meetings is facilitated.
Likewise, for email management, using a teamwork tool will reduce the number of emails and centralize important information to find them on a single platform. Communication will be more fluid within your team.
The publisher Knowings has estimated that for a company with 200 employees spread over ten sites, the number of internal emails exchanged has dropped by 30% after choosing a collaborative solution.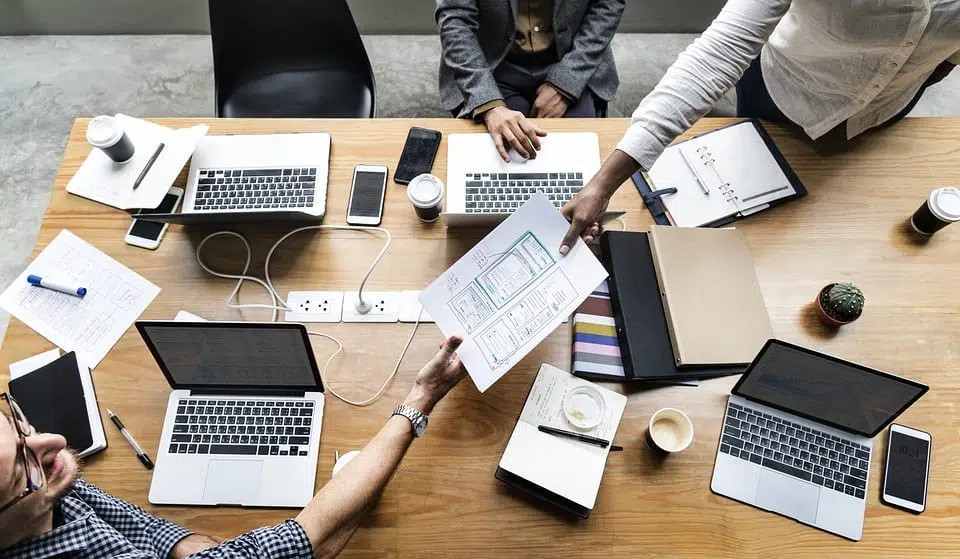 As teamwork is strengthened and communication improved, the involvement of each employee is increased and the overall effectiveness of the team is enhanced. At the same time, you will reduce the duplication of effort.
The collaborative culture is favoured because the members of your company will cultivate a true team spirit. The inclusive aspect of a collaborative platform encourages collaborators to share different view on the same information when team members really need. In addition, this avoids being interrupted continuously by email to have some information.
Make communication between dispersed teams over different sites more obvious
Distance can make cooperation between teams complicated, but with a collaborative work tool, all the company's resources are accessible on the platform anywhere and at any time. Everything is updated in real time, which makes information sharing much more efficient. The collaborative platform concentrates everything you need in one place, whether it is the tasks performed by your collaborators, important documents, decisions taken or previous actions taken.
The keys to a successful implementation of your teamwork tool
If you want your integration into a collaborative solution to be successful and allow you to achieve your objectives, you must consider 3 essential aspects:
Support for the Individual person
The Manager's accomplishment
The organization of the Company
It is necessary for everyone, at their own level, to understand how such a solution can be beneficial to them.
The individual person must see what are the benefits of such a tool for him
He will be able to manage his note-taking, his To-Do list or his action plans in a simple and structured way, which will allow him to optimize his time and be better organized.
On a collective level, he will be able to benefit from sharing knowledge with other team members. Information is made more fluid between members, which significantly reduce exchanges and save time in finding the right information.
The manager will be able to get the best out of his team and save time
The manager will continue to supervise, thanks to the support of the tool which gives him a global vision of the progress of the actions carried out by the team; while leaving a freedom of action to the individuals. This more liberal method will make them more responsible so that they feel more concerned about the success of the projects to be carried out.
For the company, using a teamwork tool will enable it to manage its objectives more effectively and improve its internal organizational processes, by:
– Structuring and communicating its objectives clearly
– Improving communication and organizational methods within its teams to achieve its objectives
– Having a global vision of its internal efficiency
– Ensuring the well-being and good quality of life at work of its managers and employees by reducing their stress
Finally, whatever collaborative tool you choose, it will bring real benefits to your daily work, whether for each member of your team, for managers or for the company.
It will improve your company's productivity by reducing the time wasted searching for information, eliminating collaborative overload and reducing the number of repetitive tasks
It will allow an optimization of organizational processes
It will help you achieve your objectives as effectively as possible
To go further, read our blog on Information overload in companies.