January 2020
Get insights on your projects and goals using our new Project Report view
With this new Project Report function, the objective is above all the fast feedback of your information, in a graphic and readable way. In a very simple way, you will use the Beesy Dashboard as a real management tool.
Your reports will be more visual to help you manage your projects and goals with a graphical view, on a precise date range and for a given team.
To access your Project Report, go to the "Show" menu on your Dashboard, then select "Project report".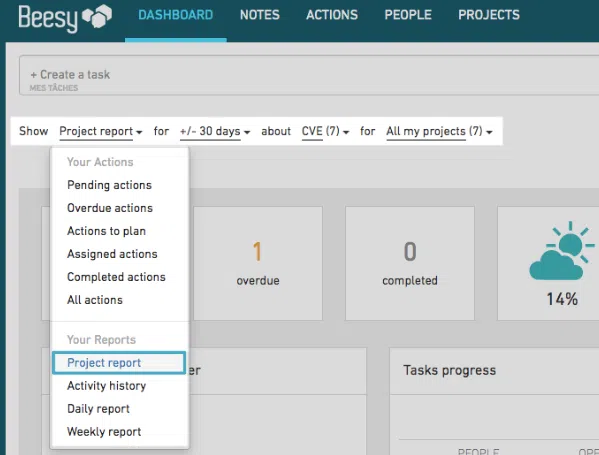 On the first line, quickly identify the dynamics of your projects
You get an overview of current actions – overdue and completed, on a date range and for the persons concerned. This gives you a progress report based on the number of overdue actions.

Then you see the number of meetings and actions created on the date range according to the project to manage its activity. For example if you see that several meetings or actions have been created in the defined date range, this can be a sign of the good progress of your project.
Finally, the last part indicates the number of days remaining to complete all the actions of the project before reaching the deadline. A negative remaining number of days will therefore indicate that you are late on your project and conversely, a positive remaining number of days will indicate that you are on time.
Then, visualize the participants of your project and who is late or in line with the deadlines

You will find the number of ongoing tasks by owner, according to a color code that you will also find in the "Tasks progress" section.
For each resource, you can see the distribution of tasks according to their progress: in green the tasks in progress and in orange the late tasks.
Finally, find all your tasks by project and by major deadlines

On the third line you will find the list of tasks per project with details:
The person responsible for the action,

The status of the action: in progress or overdue

The priority of action defined according to the criteria of the Eisenhower matrix: Do (important/non-urgent); Urgent (important/urgent); Report (non-important/non-urgent); Delegate (non-important/urgent)

And the date before which the action must be carried out.
And finally, the last part highlights all the milestones. This way, you can see in chronological order all your important deadlines over the next few months.