January 2021
Discover our new filters which include:
A new "Search" filter in the PROJECTS tab to quickly find your projects and their action plans

A new "Search" filter in the NOTES tab to quickly find your meeting notes. The filter works both to find a note from its name but also from the project to which it is attached.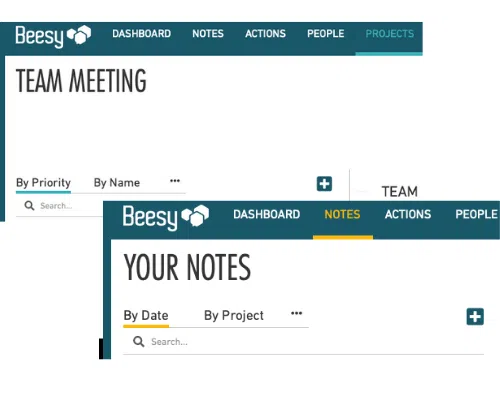 February 2021
Find out how to bookmark management views in your favorite browsers
Customize your views by bookmarking any necessary Beesy tab to manage your activity. For instance, you can easily ckeck a team member's action plan or the overdues for a specific project. You can further filter your views by project, person, time period or even goal.
March 2021
You can now manage the progress of your action plans regarding a group of projects sharing a common denomination using the new filter "contains".
From your Dashboard, in your "Project Report" view, you can now use "Advanced Filters" to graphically manage the evolution of your action plans on specific meetings. Your reporting will be better targeted depending on your needs.