Could mobility help me be more efficient?
My smartphone always in my pocket, my computer to work at my office, an iPad or my notebook to take notes during meetings: in every situation, I need my most relevant working tool.
So many tools, an asset or a headache for my working life?
Thanks to beesy.me, I managed to take advantage of all those tools and increase my productivity.
My Smartphone, my best friend
As many, I became "addicted" to my smartphone. According to some studies, it even seems that we spend more than 3 hours per day using it. It's almost one day per week on our smartphone.
My smartphone is no longer just a mobility tool but became totally disruptive in my daily activities, whatever the time or place:
TIP n° 1

In the morning, during my 30-minute train ride, I take the opportunity to review my To-Do list and organize my day. At a glance on my Beesy dashboard, I can access my daily and weekly tasks and priorize the activity of my day… No more need to do this when I arrive at the office.
I optimize my time.
TIP n° 2
How many informal discussions around the coffee machine end-up with relevant ideas to write down? In just a tap on my smartphone I can log an idea or an action to perform.
I never forget an idea anymore!
The comfort of a computer or even a paper notebook
Even if I can't go without my smartphone,sometimes it reaches its limits.
For example, Note taking during meetings is easier and quicker especially on my tablet, or even on my notebook with my connected pen.
I actually save time taking notes with Beesy
The review of an action plan or a meeting preparation is obviously more comfortable on a large screen given the dataset to visualize. I have both a detailed and global vision.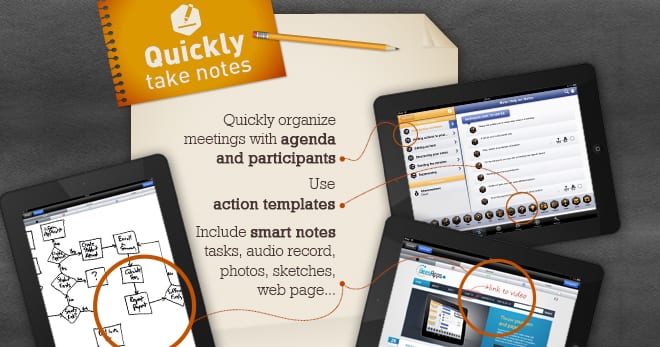 An easy access to updated data
To ease the use of my increasing number of devices, I need to easily access all my information whether this is my notes, my To-Do List, or the different items of my projects (documents, schedule, sketches …)
With Beesy.me, I synchronize all my devices. All my notes, ideas and actions but also the detailed content of all action plans are available whatever the device I use.
I need an information, the latest version of a document or the latest report during a discussion with a customer, no problem!
Everything is on my Beesy.me account and I can browse it from my smartphone or a laptop via a fully secured Cloud solution.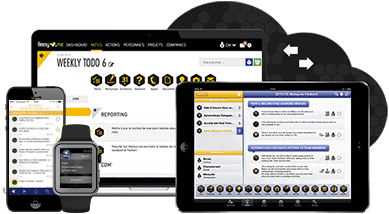 Beesy is the perfect solution to efficiently enjoy all the performance provided by all the devices I use every day!
Discover all the usecases
No matter your issue we have answers