Start with Beesy & Microsoft 365
Discover all the features of Beesy & Microsoft 365 and how they work together
You may use Beesy solution to organize your action plans, manage meetings, track the progress of your projects, lead your team members, and automate activity reporting as part of your Microsoft 365 suite of products, which includes Teams, Outlook, and Office.
Beesy est available on the Microsoft Application store. Use the application icon in your Microsoft tools to install Beesy.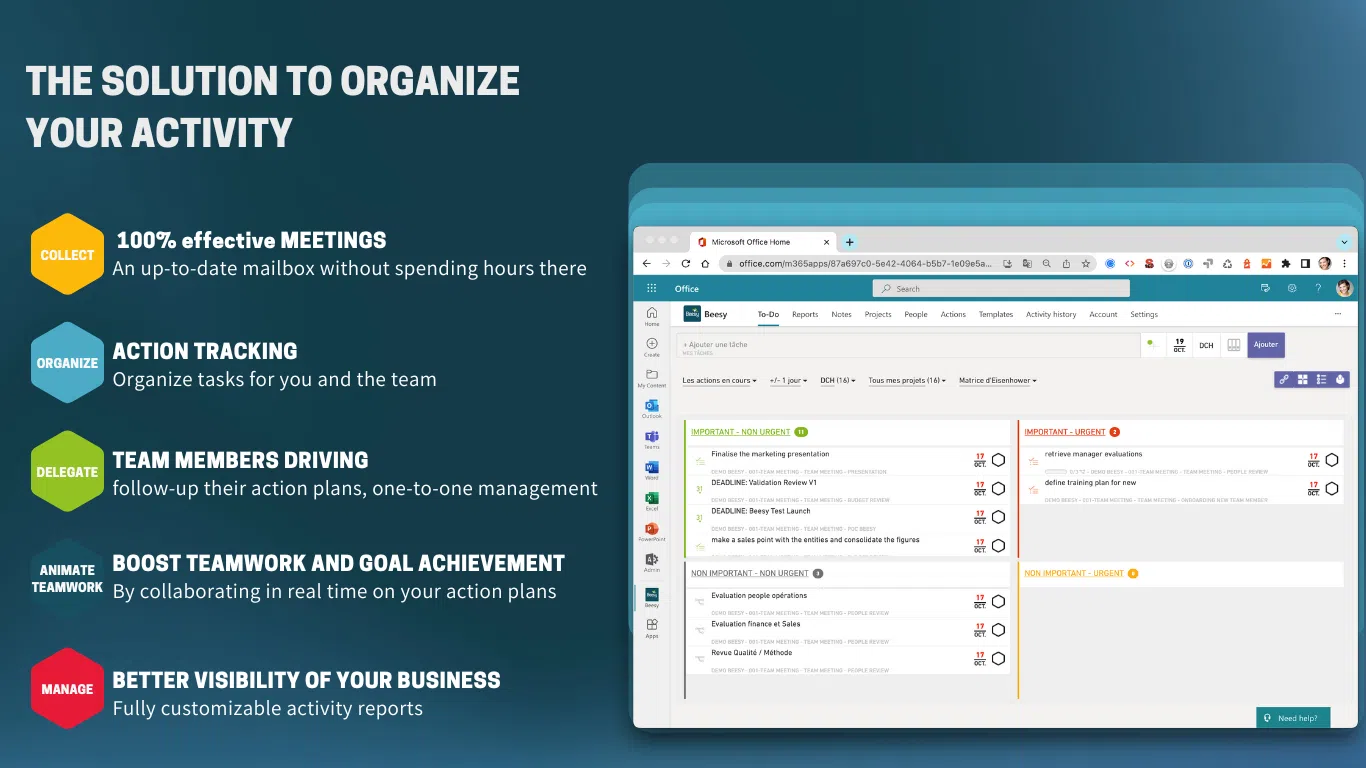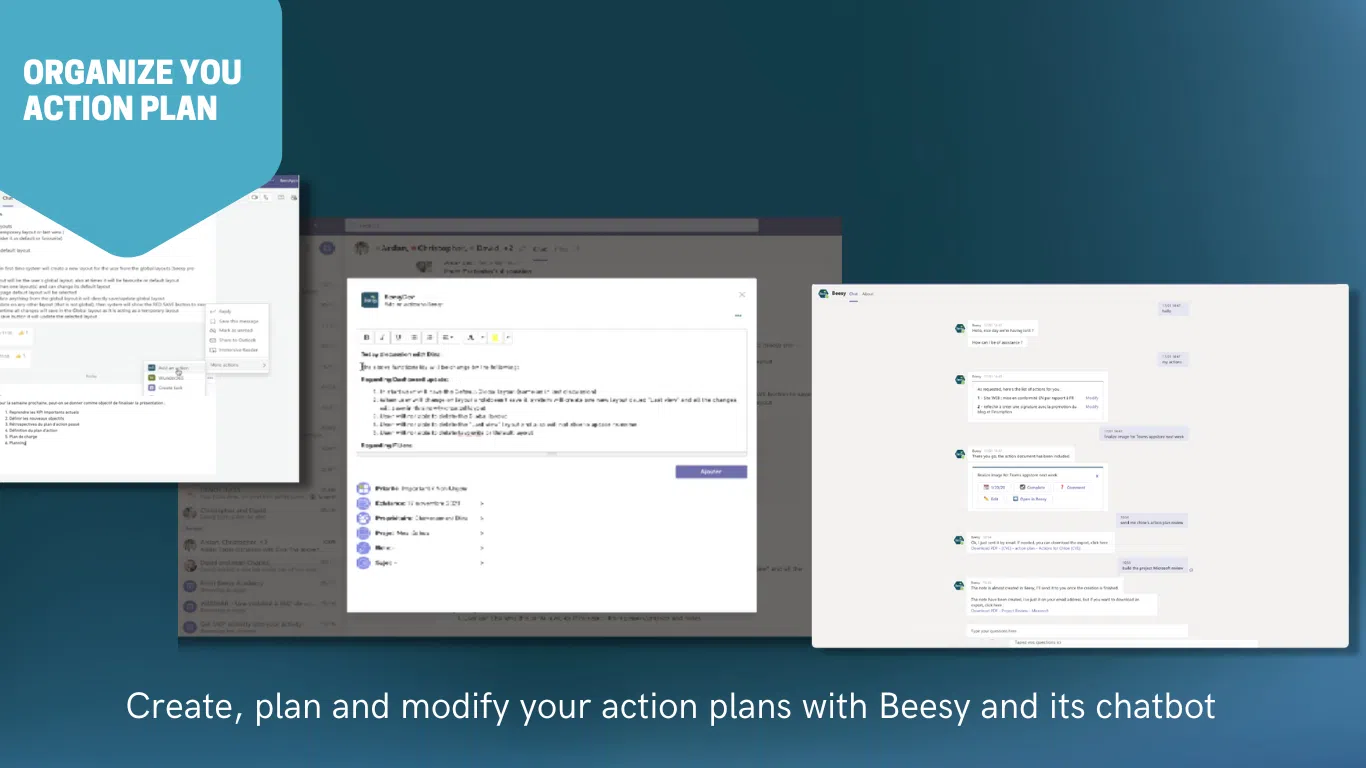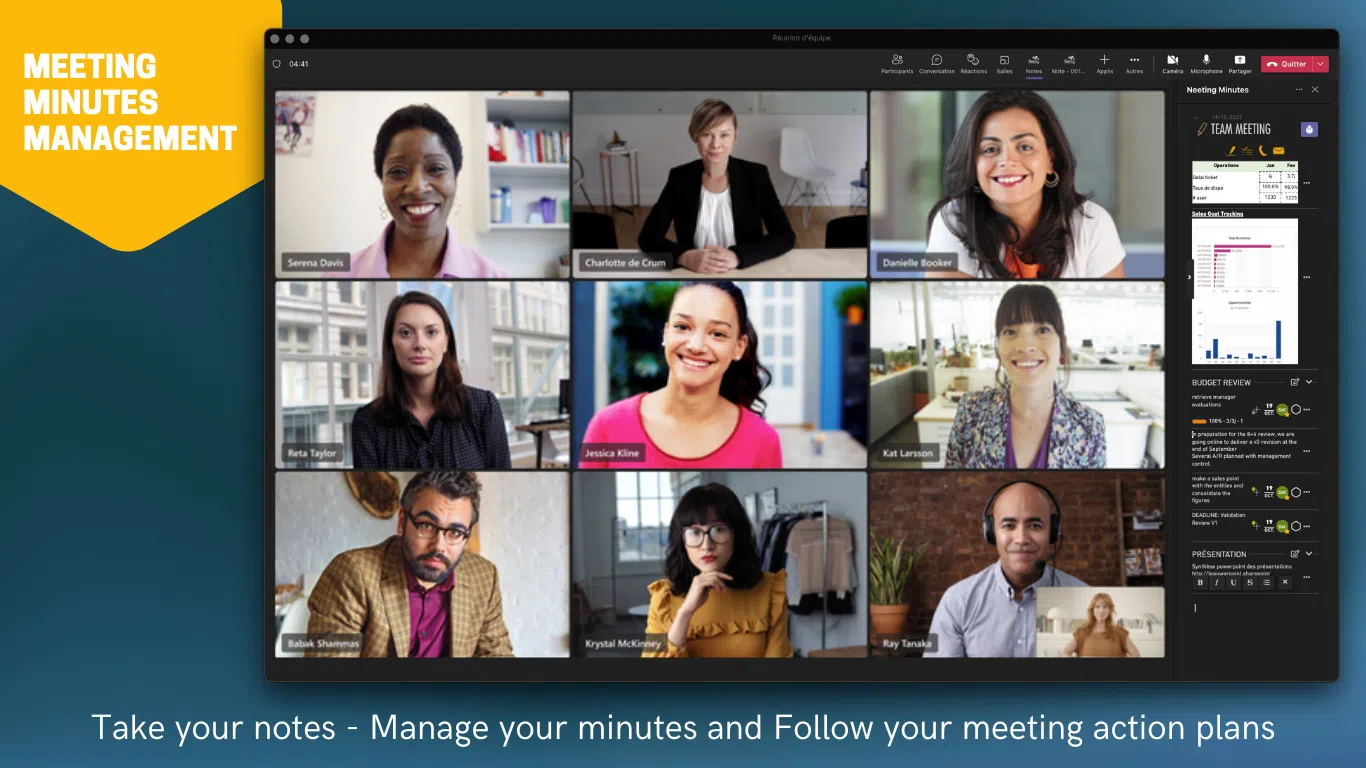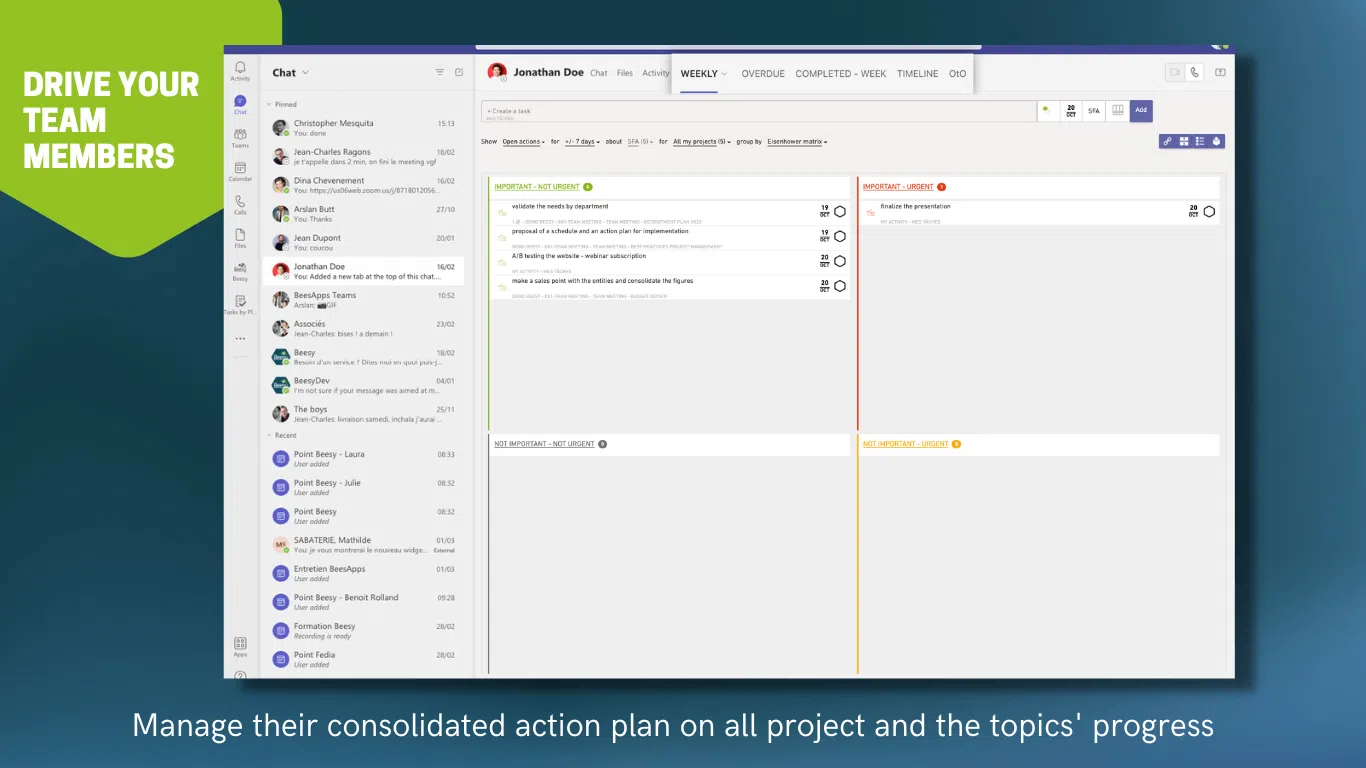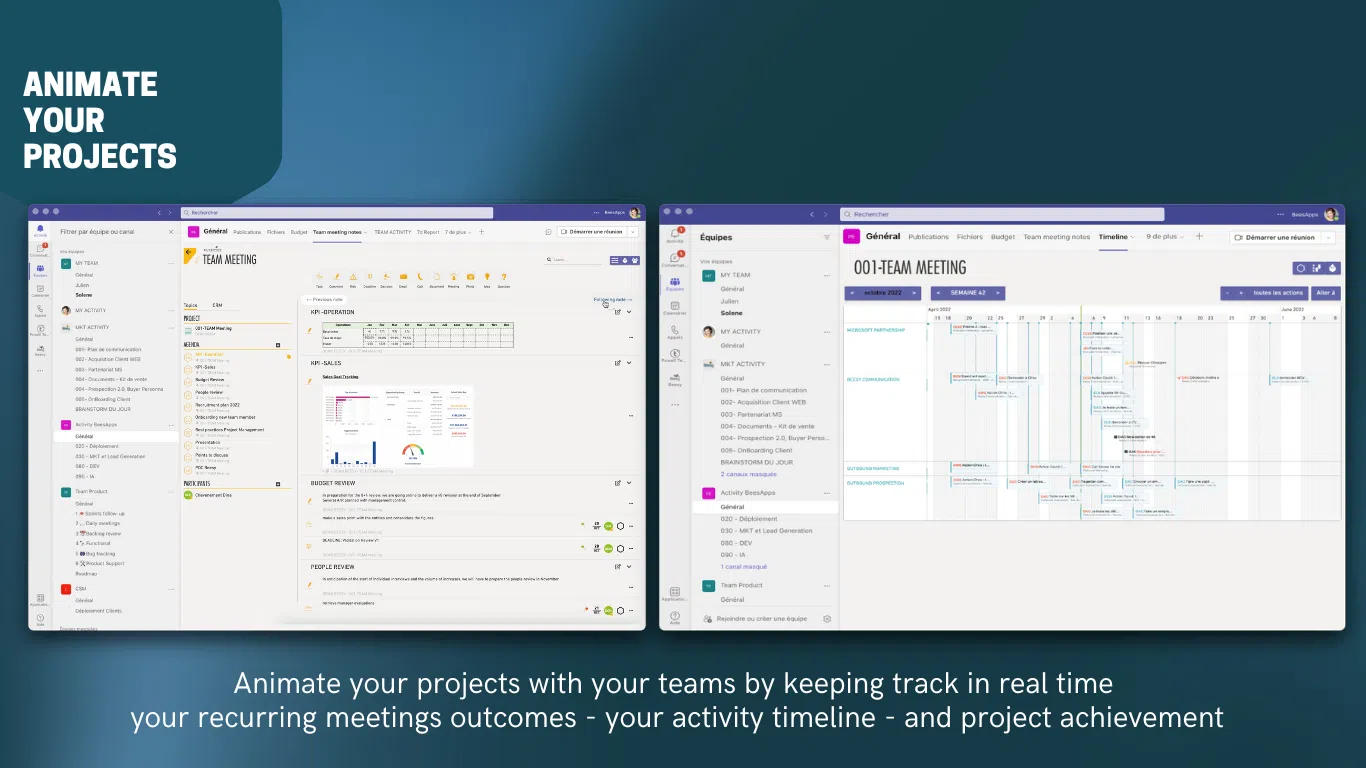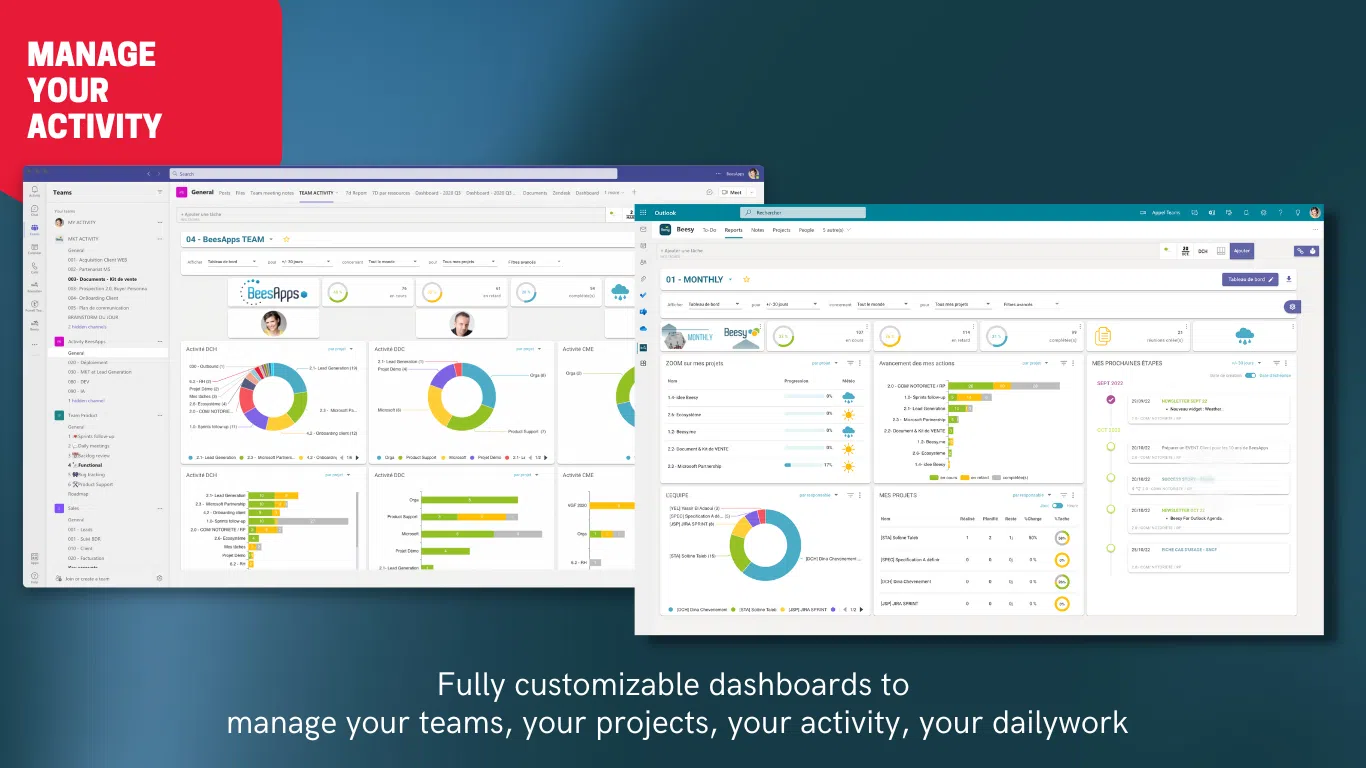 Beesy on Microsoft 365
Beesy is available in your Teams channels and chat: add all the necessary tabs on team or chat to manage meetings, the To-DO, daily or weekly, actions overdues or completed, projects timeline, or custom dashboards…
The Beesy chatbot is available in all your Teams and chat, or by email in Outlook: Through your Beesy assistant in natural language, you will also be able to create notes and actions, delegate tasks, create projects, pilot your information directly from emails or your chat.
Beesy is available in Outlook and Office to view all your To-Do, notes, projects, team members and reports.
An AI-powered smart assistant Beesy is also available on your Microsoft 365 tools to easily create your action plans, prepare your project or one-to-one meetings, generate your reports. Easy to use, this artificial intelligence exchanges in natural language with the teams, analyzes their data to sort it and store it in a structured way in the Collaborative Beesy solution.
Install your add-ins Beesy for Outlook to turn your emails into tasks or to prepare your meetings. 
IN YOUR EMAILS
You may quickly generate tasks from emails with Beesy for Outlook. This function converts your email correspondence into an organized action plan, allowing you to centralize all the pertinent information for your projects and teams in one place:
Create task from your emails.
Add your tasks to already-existing Beesy projects.
Define the deadline and priority.
Designate the task owner directly from your emails.
Your email will be automatically attached to your task in order to preserve the history and context of your action plan.
You can also decide to include the email's attached pieces in your task.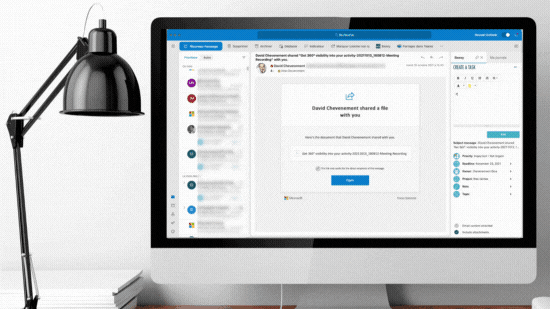 IN YOUR CALENDAR,
Use the Beesy for Outlook add-in to your calendar to prepare meetings. it automatically create Beesy collaborative meeting notes with the meeting's schedule.
A link to the meeting minutes will be sent to your team right away from its calendar.
Create your meeting notes in Outlook (using a new meeting, a previous meeting, or a sample meeting)
Share your daily schedule so you can get ready for meetings.
Put your notes right into Teams.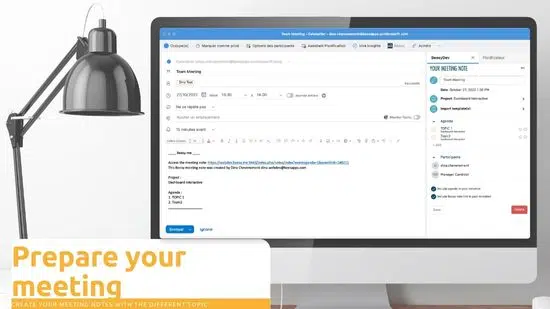 Video
In this video, discover how to use Beesy in Teams without difficulties.
Want to see Beesy & Teams in action?