Beesy.me Sync: Save your Online Notes and Attachments
Your online notes are easy to take and save with Beesy.me
Using the Notes tab, you'll be able to taking notes in a very efficient way from any browsers. The Beesy.me notes structure allow you to easely organize your note with Topics, Participants and Actions items. Beesy helps you structure your note as you type using action templates. While typing your notes, you can quicly add new actions by simply selecting one from the action toolbar:
Task
Deadline
Comments
Draw
And more …
By adding Task items as you type, you will easily structure your notes and Beesy will be able to automatically generate To-Do lists for you, with no extra work. Moreover, our online platform enables you to save your online notes and attachments, so you can always find them when you need to.
Once you have finished organizing your online notes, you can easily export them.
Click on the top right button, to share via email or with a CSV file.
If you select email, Beesy will generate professional looking minutes with all your public notes, and will attach all documents as well.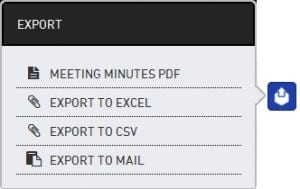 Archiving a Note is easy and can be done in few clics. From the Note tab, just click on the left icon of a Note and then you'll see an "Archive note" button. By clicking on it, your online Note will be transfered from your actual Beesy to your Beesy Archive. You won't be able to access it from the normal interface. Furthermore, all the actions in the note are transferred and automatically marked as completed when archived. Once archived, you'll find the online notes in you Archives. You'll find your Archives in the Beesy.me menu accessible by clicking on your User name in the top right corner of the interface.
Note that "Following notes" can't be archived from the Note Tab. In order to archived following online notes you have to archive the Project which contains the following notes.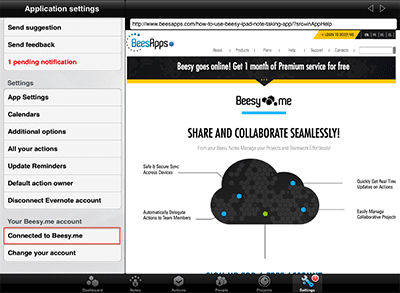 Discover all the usecases
No matter your issue we have answers