Beesy.me Pro: Visual reporting – Project or action plan scheduling
Visual reporting
Most of the time, mid-term planning of your tasks is best done with a visual tool.
It helps your brain get a clear view on the overall picture while still being able to zoom in on details.
Planning is then just a matter of scheduling actions based one your goals and task durations.
Many times, we tend to overload ourselves with top priority actions. More overload mean more stress and the unsettling feeling to constantly be late.
Looking at your timeline should help you relieve the pressure.
A time-based table will help solving this issue.
The Beesy timeline option allows you to easily visualize all planned tasks and deadlines for a project.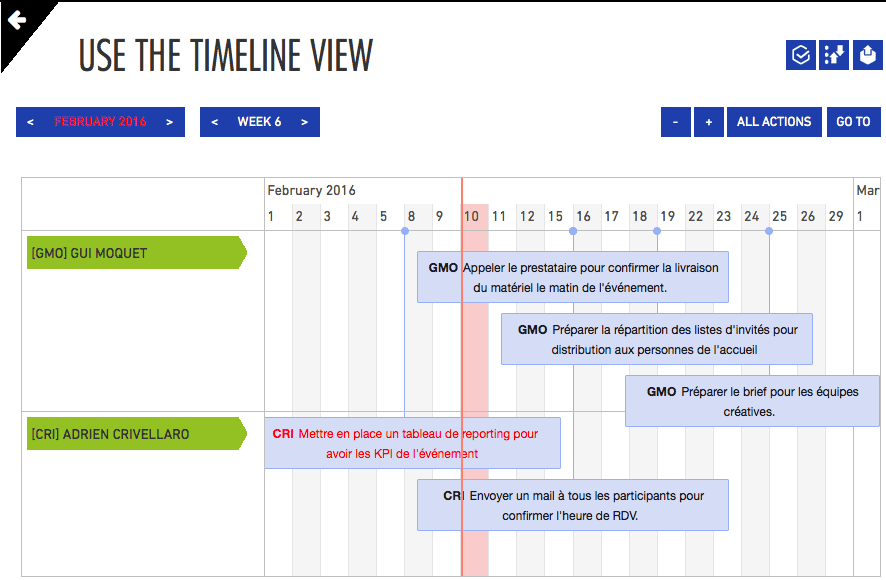 Each task can be linked to resources and due dates.
Easy to use, quick to update, and instantly understandable by experts as by novices, this visual representation of your To-Do list let you quick identify overloaded days and resources and evaluate risks on your projects.
It is an efficient way to work your daily To-Do list and to take quick decisions.
1. Visualizing your data in a simplified timeline format is available from the tabs:
Notes: Timeline view of your notes by "Topic"
Actions: Timeline view of your actions by "Projects" or other available filter
People: Timeline view of your contact's actions by "Projects" or other available filter
Projects: Timeline view of your project's actions by "People" or other available filter

2. Manage your Reporting settings
The Timeline view integrates by default all your opened actions and filter by "Projects".
You can modify your Timeline view using the filter button:
Filters: Change the filter for your actions (Projects, People, Notes, Subjects, Priority, Actions type).
Historic: Show your completed actions for a complete timeline view.

3. Analyse your actions plans
The timeline view comes with some settings:
Month button: Choose a specific month
Week button: Choose a specific week
+ / – button: Zoom / Unzoom to change the view
All actions button: Show all the actions on the timeline
Go To button: Select a specific date


4. Manage / Edit your actions
With the Pro option, you can edit your actions directly into the Timeline.
To do it, click to select an action and drag & drop it to:
Set a new deadline
Move it from one context to the other: owner, subject, Project, Priority
Print: print your Timeline view clicking on the export button

Discover all the usecases
No matter your issue we have answers