Beesy.me Pro: Goal Planning and Project follow-up
Introduction to Project management in Beesy: Goal Planning
The Project management view will allow you to assign your notes and tasks to projects for an easier follow-up.
Beesy.me enables you to have as many projects as you want, and you can group them by goals. Goals are just a way of grouping projects together and help you organize your activities.
Adding goals
PTo add a goal, tap on the Plus "+" button in the top left toolbar. You will be prompted to give a goal name and priority.
You new goal will not appear instantly. It will only appear when you will assign at least a project to it.
If you wish to see all your goals anyway, tap the Plus "+" button and select edit goals. There you can edit goals name or suppress goals. The default goal cannot be suppressed.
Organize your projects by priorities
Click on the project icon
Click on priority dropdown list
Choose your priority from 0 to 5 (5 it's top priority)
Thanks to Beesy, you will be able to find your projects by priority and also by alphabetical order. Your projects will be synchronized and available offline and you will be able to have access to them at any time and anywhere. You don't have to worry about flash drives or other storage device thus, our Beesy solution will allow you to be more productive.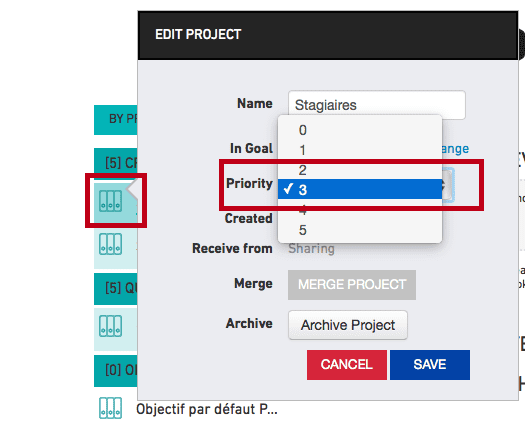 Discover all the usecases
No matter your issue we have answers