Beesy.me Pro: Download And Read Files Into A Note Or A Project
What is Document Management?
Before explaining how to download and read files into a note or a project it is important to see what Electronic Document Management (EDM) is.
Patrick Thomas Choppy Nerden define electronic management as:
"A supported storage, sharing and retrieval of electronic documents. They are mainly systems manager files that include content (the information content) and form (the presentation envelope).»
Document management allows computerizing and organizing information and electronic documents in an organization.
It has two advantages:
Protection of the environment
Time saving
It is important to share documents as quickly and easily as possible to the intended recipients. This will have an impact on the profitability of the company.
According to The Economist:
300 hours: The average time spent by an employee every year searching for paper documents.
75 kg: Paper consumption per employee each year.
5-15% of turnover: The average proportion of turnover for the management and archiving of paper documentation.
How to download documents in Beesy.me into a note or into a project?
With Beesy.me it is possible to read documents from notes or from a projects. The documents can be imported with PDF, MS Office (Word, Excel, Power Point) and iWork (Keynote, Pages and Numbers). You can then create, modify or delete these documents.
To add a document in a note or in a project, simply:
Click on the action icon
Download the document
Save
Then:
A paper clip appears which means a document is attached to this action. You can download the document by clicking on it.
You can add comments which will be added to the document in all your exported emails and/or PDF.
You can assign a document to a person whom will be responsible for integrating the comments or creating a document.
If your notes or projects are shared documents, they will be automatically shared to all members of the project with your comments. This way everyone has the right version of the document to be processed / read / downloaded.

Tips
If you synchronize your Beesy.me account with our iPad application Beesy, your documents will be synchronized and available offline.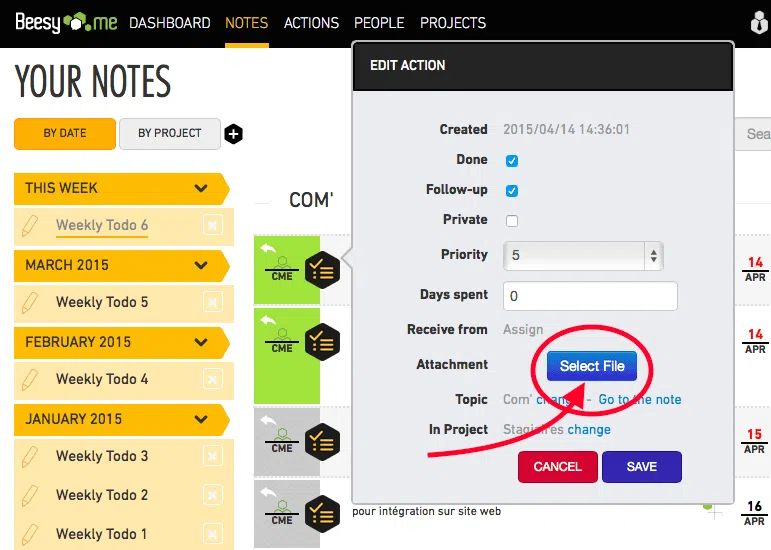 Discover all the usecases
No matter your issue we have answers