Beesy.me Pro: Archive a Project or a Note from
Archive a Project or a Note and manage your Beesy Data
Beesy.me lets you manage your Beesy data with the Archive feature available only on your WebApp Beesy.me.
Archive a project achieved or a note in order to clear your Beesy interface from obsolete data. We use to work better on a clear desk and the same goes with Beesy.
This feature is available for all plans, included the Free one.
Archive a Note
Archiving a Note is easy and can be done in few clics.
From the Note tab, just click on the left icon of a Note and then you'll see an "Archive note" button. By clicking on it, you're Note will be transfered from your actual Beesy to your Beesy Archive. You won't be able to access it from the normal interface. Furthermore, all the actions in the note are transferred and automatically marked as completed when archived.
Once archived, you'll find the notes in you Archives. You'll find your Archives in the Beesy.me menu accessible by clicking on your User name in the top right corner of the interface.
Note that "Following notes" can't be archived from the Note Tab. In order to archived following notes you have to archive the Project which contains the following notes.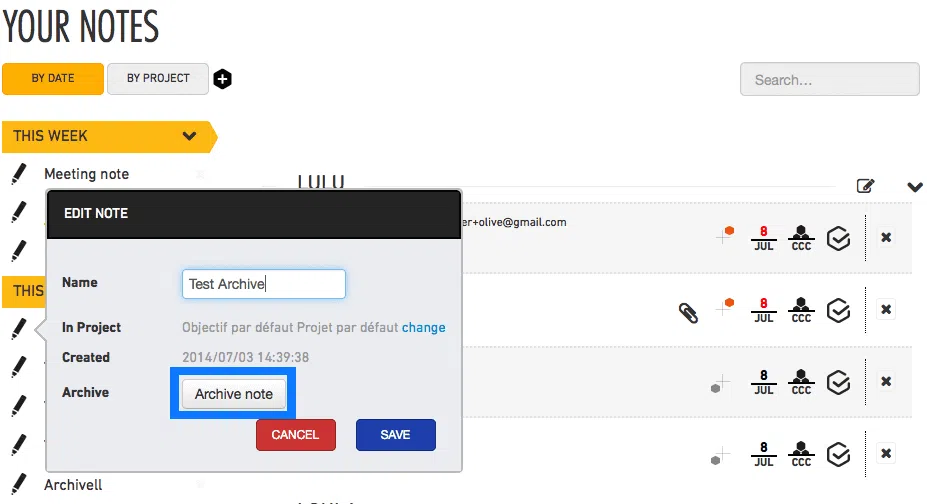 Archive a Project
To Archive a Project you just need to follow the same steps as when you archive a note but from the Project Tab.
When you Archive a Project, all Notes and Actions assigned to it are archived as well. As for the notes, all actions are marked as completed when the related Project is archived.
There will always be a warning to remind you this.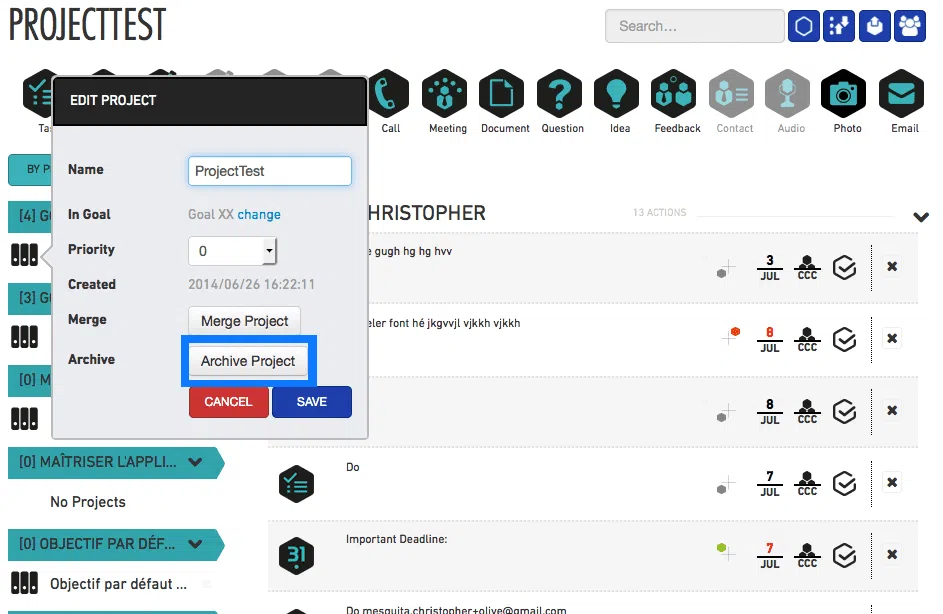 Access and Browse your Archived Data
Access to the Archives
Once archived, you can browse your projects and note from the "Archives" section. From this section you can only view an browse your archived data.
Unarchive a Project or Note
From the Archives section you can unarchive archived data. You just have to click on the Project or Note icon at the left of the element and click on the "Unarchive" button.
Once unarchived, a Project or a Note goes back to the Beesy interface. However, even though you can change actions' status and assignments once unarchived, all actions will still remained marked as completed by default.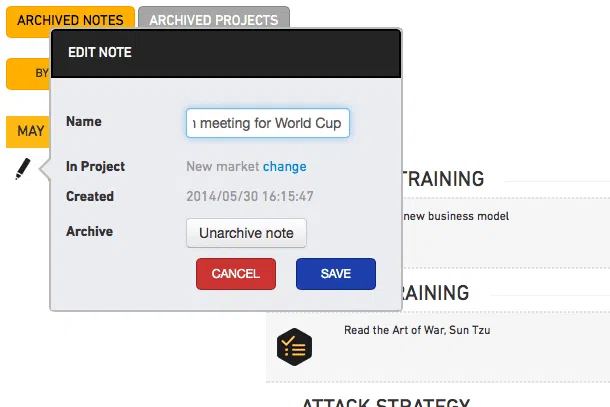 Discover all the usecases
No matter your issue we have answers