Beesy.me Pro: Projects Templates
Your projects share the same steps or phases, or the same action plan?
As an Online Project Management Software, Beesy allows you to set your workspace to get organized and share your Projects with some of your Beesy contacts for managing collaborative projects.
The team has now a full view on who is doing what on the project, and what the next steps are.
Beesy goes further to let you save time thanks to Projects Templates.
Benefits
How to minize risks and optimize the action plans before launching a new project?
Organize, plan, & prioritize your action plans to quickly implement and save time before each project kickoff.
With Beesy, you will be able to create 2 types of templates:
Goal > Projects > Actions
Project > Actions
Creating your first Template
Access to the feature
Project templates must be created from your online account and require a Beesy Pro subscription.
Click on your initials in the top right corner of your online account. You' ll access the account menu.
Then, click on "My Templates".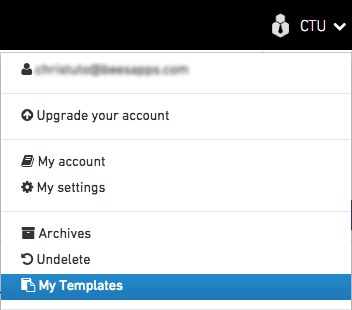 Create your first Project Template
Click on the "+" button
Choose if you want to create a Goal or directly a Project Template
Press "Create"
Here we are creating the full Project Template:

– Goal
— Project X > Actions
— Project Y > Actions

Plan & Organize your Project Template
The interface builder is the same as the regular goal and project creation.
That allows you to:
Create a Goal (ie: Goal Template X)
Create Projects (Phase 1, Phease 2, Phase 3, …)
Add differents actions to plan your projects:
Risks, Documents, Tasks, Dealine…
Assign actions to co-workers and set due dates
The only big difference is the action due date.
Due date is now calculated in time difference to the time at which you'll create your project from this template.
For exemple:

You put 3 days for a task
If you deploy the template the May 14th, the task due date will be the 17th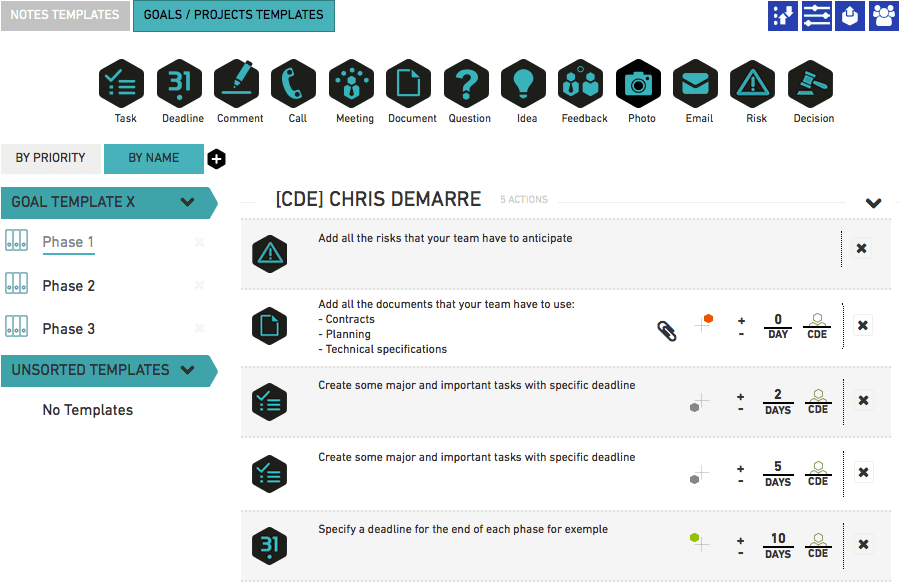 Create your first Project Template
How to deploy your Project Templates
Once you have create your templates, you will be able to use them to deploy a new Project.
Be aware that you need to synchronize them on your iPad and iPhone apps.



Discover all the Pro features