Fast note taking on iPad – How-to use Beesy app Help
How-to Fast note taking on iPad with Beesy
Beesy will enable you to easily and quikly take notes on your iPad during meetings.
Beesy helps you structure your note as you type using action templates. While typing your notes, you can quicly add new actions by simply selecting one from the action toolbar.
Now switch Beesy to a landscape orientation so that you can better discover the Notes tab and organization.
Browsing Your Notes
Navigating Through all Your Notes
In the Notes tab, the left panel allows you to navigate among your different notes.
Notes are ordered by date but you can browse your notes By project by selecting that tab on the top of the pane.
You can also search your notes by scrolling down through the pane.
Tapping on a note will provide you with the notes, contents in the left panels as well as list all the action items of that particular note in the right panel.
Inside One of Your Notes
On the left panel, you can see that a meeting has agenda topics. Topics let you organize the meeting notes by subject for easier retrieval and to generate professional meeting minutes.
Meetings also have participants, who may be mentioned in the meeting minutes. You can drag&drop them with 2 fingers to assign an action to them, or the other way around.
If you select a topic, Beesy will scroll to this topic in the right panel.
If you add an action by tapping on one in the action toolbar, Beesy will automatically add it to this topic and open the keyboard so you can start typing.
Starting a New Note
Create a New Note
Simply tap on the plus button as shown in the right screenshot.
You can type a note name and set if it's a one to one meeting (this option is not implemented yet).
You can assign a meeting to one of your projects. If you choose not to, Beesy will assign the note to a default project.
If you want to start your note as fast as possible, you can skip the project part and come back to it later.
If you already have projects in Beesy, you can select one and all action items you will add to that note will be categorized under that project.
This enables you to track all actions in a note from a project perspective. Whether you do it or not, you will still be able to track actions in your To-Do manager or your People manager.
Configuring Your Note
Once you have created a new note, tap on it to enter in to the note. The left and right panel are blank since it was just created.
By tapping the plus button, as shown in the second screenshot to the right, you can:
Add a topic
Add a participant from your people list
Add a person to your Beesy contact list and automatically add it as a participant
Import a contact from your address book and automatically add it as a participant
Adding Items to Your Note
Beesy structures meeting notes with task templates.
Templates are made to ease typing minutes. Beesy provides different kinds of templates Notes, Tasks, Draws, Web, Map, and plenty more. Simply touch one of the task type in the toolbar, to add new items to your notes, then start typing.

Set Your Action Properties
You can easily configure an item while you type your note.
First you can access the task properties by holding down the icon on the left side of the task.
Through this menu, you can:
Set a task as completed
Tell Beesy that this task should appear in your To-Do views
Set a task a private so that it does not appear in the meeting minutes
Set its priorities, the time it took to complete and the time you think it will take to complete
Assign your task to a different topic, a different project or a different type
These are all preconfigured by Beesy when you add a task. You can configure the default value in your To-Do manager
Use Advanced Objects in Your Notes
If it's a complex item like a drawing, a simple tap on the left side icon will enable you to edit your task content.
If Beesy generated an image from your task, for instance for web pages or maps, Beesy will ask you if you wish to edit the task itself or draw on the image.
Complex items include:
Drawings; to handwrite something, draw a chart or sketch your ideas
Maps; to log an address and be able to find directions from wherever you are
Web: To easily navigate to a website from Beesy
Meetings: if your need to schedule a meeting from Beesy (You can do it from your dashboard calendar as well)
Contact: to add new people during your meetings
Configure Your Tasks Easily
If the item should appear in your To-Do list, Beesy automatically provides you with 4 shortcut icons on the right:
First is the URGENT/IMPORTANT switch. Tapping on this icon will cycle through all the Urgent / Non
Urgent and Important / Non Important possibilities. It actually shows how it will be displayed in the same matrix in the Day Planner.
Second is the task due date icon. Tap on it and you can pick a due date for this task.
Next is the task owner. Tap on it to pick an owner from your contact list.
The last one icon is the completed icon. Tap on it if you wish to set this task as completed. Completed items remain in your notes, whereas they will disappear in To-Do, People and Projects.
Structuring Your Notes
You can add topics to a meeting by pressing the Plus button in the top left toolbar.
Select a name for a new topic and simply tap the Save button. If you wish, you can optionally link this new topic to a project.
If you do so, all new items in this topic will also automatically be linked the project as well.
You can create topics in advance while you prepare for your meeting or during the meeting.
If you wish to organize your items in the different topics you created, simply drag&drop with 2 fingers an item on to the topic you want it in, as shown in the screenshot.
Doing so at the end of a meeting will enable you to finalize your meeting notes in less than a minute.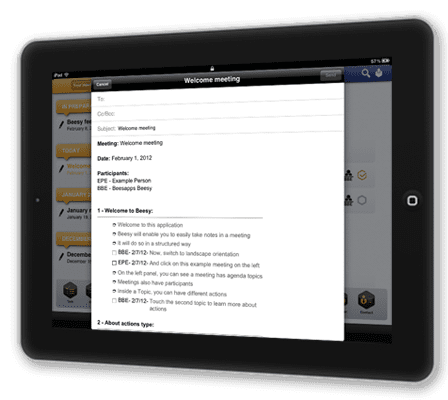 Sending the Minutes
Once you have finished organizing your notes, you can easily share them.
Click on the top right button, to share via email or with a CSV file.
If you select email, Beesy will generate professional looking minutes with all your public notes, and will attach all images as well.
Suppressing
Suppressing in Beesy is really straightforward. Simply left swipe on an item and a delete button will appear.
This works with Tasks, Topics and Participants.
Doing so anywhere in Beesy will always bring a delete button
If you wish to edit a topic, tap on its icon in the left part of its cell. In Beesy, icons in the left part of any cell will always enable you to edit an object.