Challenge or opportunity ? 
Today's managers face many challenges within their companies, but the challenge of intergenerational team management often arises.
Leading teams of experienced senior, young graduates and 40-year-olds at the top of their careers makes many people shudder. It is true that age can have a major impact on the good understanding between employees and inevitably on the productivity and efficiency of everyone: everyone has their own working methods, needs more or less recognition according to their experience and maturity, a more or less significant investment in the company, and many other things.
There has always been a misunderstanding on the part of one generation of the next generation, it is an ancestral phenomenon. All these differences can be a source of tension and conflict, but they can also be a powerful lever for complementarity if everyone contributes to it.
What are the main differences between these generations?
It is not unusual for some teams to have 3, 4 or even 5 different generations. Everyone has their own vision of things, which can affect the fluidity and good understanding within the group.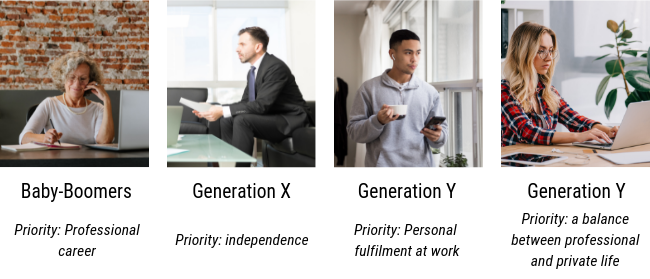 First of all, we have the Baby-Boomers, the senior employees in companies, born between 1946 and 1964, aged between 53 and over. At the end of their careers, they are oriented towards collaboration, relationships and more traditional methods: preferring to attend face-to-face meetings rather than video conferences or webinars. They are generally reluctant to change management methods, having experienced the same operating methods throughout their careers.
For this generation, it is the professional career that prevails for 39% of respondents, just ahead of the salary at 29% (Qapa.fr survey).
Then we have Generation X, the one from 1965-1980. From young people in their forties to those in their fifties, we find a generation that is not afraid to shake up the codes, with people declaring themselves self-sufficient and very independent. This generation is known for its entrepreneurial spirit.
It would be the most motivated to work hours, exceeding 45 hours of work per week at 32% (Qapa.fr survey).
Born in the years 1983-96, Generation Y, the Millennials. We're talking about the hyper-connected generation. Millennials will prefer to communicate via online chat platforms or social networks rather than move to see their colleagues directly. This generation has had the opportunity to grow up in a world in full evolution and digital transformation, which has allowed them to master new technologies more quickly than their elders. They also seek diversity, challenges and professional achievement.
The Millennials favour professional projects at 36%, ahead of salary at 24% (Qapa.fr survey).
Finally, recently arrived on the labour market, Generation Z (from 1997) or also known as "Digital Natives". These young people, who have just graduated, find technology in companies essential to improve communication. It is therefore often referred to as Generation C for Communication, Collaboration, Connection and Creativity: it is the most diverse generation we have known so far.
For this generation, it is people or colleagues who are the most important in companies at 30% (Qapa.fr survey).
These last two generations have new expectations in comparison to the considerations of the much more materialistic Generation X or Baby-Boomers: it was necessary to earn a good living to be well perceived by society and to obtain a good social "status".
Today, the new generations are looking for meaning and favour personal development and development prospects over salary. The goal is no longer to put aside one's personal life, friends and family to succeed professionally because the two go hand in hand: generations Y and Z want to be happy by balancing professional and private life.
Interview by Marie Viennot – Radio France for Adrien, Business Developer at Start-up Flow – Generation Y.
"(…) Today, I earn less but I have fun every day, which would not have been the case in a large group. (…) We work in a team, in a small team, and the human side is very nice. Everything goes much faster…. It is also less vertical, even if in some large groups it becomes more horizontal, there is no real hierarchy. Okay, there's a boss, founders, but in the end it's the best idea that wins, not the rank."
Gone are the days when work meant a safety net and gloom, nowadays it is a real way to mature, to flourish, to gain confidence and to develop at different levels.
Entering the world of work also represents independence and usefulness to society for the younger generations: it is a way of finding one's place by having a role in the economic process.
What are the challenges when a manager has to manage several different generations within his organization?
Working together as a team for several generations requires a new management style that is adapted to the differences of each individual if we want to get the most out of all employees. The goal is therefore to take advantage of what each can bring to the team, to maximize results, to foster cooperation and trust among team members, and to build loyalty to the commitment of all generations combined.
For managers, leading a multi-generational team is a real challenge and a great opportunity for development. Indeed, this type of operation in a company can be a source of great wealth, by putting the differences of each individual at the service of the group's performance.
One of the keys to success is not to try to adapt to each generation but to adjust your management methods, so that each generation can adapt to the others and work together without difficulty.
1) Responding to everyone's ambitions by going beyond age-related stereotypes
Age differences are first and foremost differences in approach and vision of things. This has led to many intergenerational conflicts because of age stereotypes: "young people, they think they know everything"; "young people are irresponsible" or "old people, we feel that what we do is never right"; "old people with new technologies… they are really lost".
A few years ago, we heard about the "intergenerational divide" but this phenomenon tends to be reversed with the high number of people on the labour market of the new generation. It can then be interesting to compose heterogeneous teams to confront each other's ideas and not to compartmentalize people according to their age.
The aim is, by working on the same project, to discover the points that we have in common with our collaborators to encourage cooperation and innovation hand in hand. It is by strengthening team cohesion, the transmission and sharing of skills for the benefit of emotional and collective intelligence that the company can evolve.
2) Create a true team spirit
According to research by Robert Half, a recruitment firm, the areas mainly affected when several generations work together are:

–     33% – la communication

–     26% – ease of adaptation
Here are some tips:
N°1: Let newcomers take the initiative or control of certain projects so that they have the opportunity to "prove themselves" and show other team members what they can do. 
N°2: Organize events with colleagues to get to know each other outside of work. An opportunity to discover people you may never have spoken to before.
N°3: Create discovery workshops where everyone can talk about their past experiences and introduce others to new things. The aim is that at any age, employees can learn new things.
N°4: Adapt your communication methods to the generation you are facing. Baby Boomers will be more sensitive to face-to-face discussions while a millennial or Generation Z youth will probably prefer an email or instant message.
N°5: Listen to your employees. As simple as it may seem, but very effective, listening is undoubtedly one of the keys to the success of your team's performance.
3) To know the different modes of generation management in order to rethink the company's organization
Baby-Boomers initially experienced bureaucratic management where companies are run by executives who have learned to control the work of their employees and to manage everything from their desks.
For Generation X, we are talking about strategic management where companies focus on results, competitiveness and financial gain.
Generation Y is undoubtedly the generation that has experienced the most appropriate management mode for the company and multi-generational teams. This is collaborative management.
Finally, Generation Z, which is completely new on the market, will revolutionize all other management methods with its co-responsible management where everyone is free to make their own choices and where private life does not come after professional life.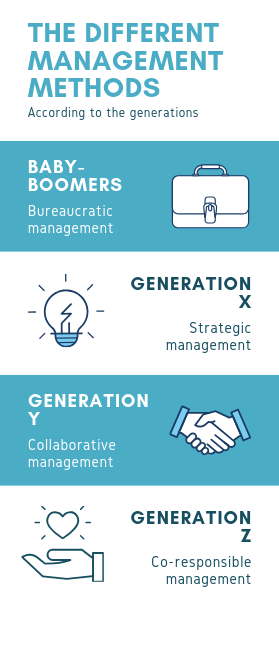 The arrival of a new generation does not mean the disappearance of the previous generation's management style, quite the contrary. Intergenerational management seeks to create a mixture by bringing together the best of each method.
To do this, the manager will have to work on a shared state of mind for all generations in the name of the common interest so that diversity becomes a strength and not a weakness. He may have the support of baby boomers who, despite everything, will find it easier to adapt to a new management style geared towards more collaboration and responsibility, rather than the younger generations.
Working on intergenerational management means becoming aware that it is time to move on to a logic of collaborative management, "doing together". Let's come back to Generation Y management in a little more detail: collaborative management.
The Millennials, oriented towards greater well-being at work and personal achievement, want to work in a responsible, socially responsible, egalitarian and ecological company. These young workers are looking for more humane managers, closer to their employees. For them, it is the collective intelligence and emotional qualities of their manager that will ensure the sustainability of the company above all else.
How to implement this type of management in a company?
Set up a CSR – Corporate Social Network where you can share and highlight the success stories of each generation. You will be able to create like a digital idea box where each generation can share its value proposition and propose innovations to make the company evolve.

Boost communication by providing access to communication tools, internal social networks where everyone can comment, like and have live chats as with Skype, Slack or Microsoft Teams.

Offer more interaction in the management of your projects and meetings by using collaborative work solutions such as Klaxoon or Beesy, which will help you share all important information in a single tool to facilitate working with your teams and facilitate communication

Rethink the company's internal organization with an atmosphere oriented towards well-being for your employees: nap rooms, collaborative workshops, forums, open-spaces, game rooms… Or even like Google: swimming pool, party rooms, etc.
The ultimate objective is not to come to work just for fun or to relax at the pool, but to create a safe and motivating environment to boost the creativity of employees and make them want to get involved in the company. In a collaborative management approach with multi-generational teams, the work done must make sense and well-being must not be ignored.
Finally, there is no universal and perfect management method that could bring everyone's expectations together. But it is clear that to ensure the well-being of his employees and the sustainability of his company, a manager will have to combine: performance; personal fulfilment; development of individual potential as well as the collective and creative spirit.
Manage all your multi-generational teams and projects with our collaborative work solution Beesy. Enjoy 30 days of free trial!