Welcome to Beesy How-To – iPad note taking app
Welcome to this iPad note taking app. We trust that Beesy will help you manage your time and achieve your goals.
You should carefully read this How To as it will help you understand how Beesy is structured.
Then, when you're done with it, you can click on any part of the above chart to access in-depth information on how each key feature of Beesy actually works.
Beesy has been designed to help you manage your time in a business environment: it integrates your calendar, your notes, your ToDo list and your projects in a single application.
The basic principle of Beesy is that most of your tasks will be coming from your meeting notes. Meetings can be regular meetings, people reviews or project follow-up.
Hence, Beesy will help you take meeting notes so that you can reuse them to manage your tasks
Using the Day Planner
This tab will help you understand your activities at a single glance:
You can check your calendar events in the top left corner
You can manage your tasks in the top right corner
You can easily access your last notes at the bottom
Check our Day Planner help to better understand how you can benefit from it.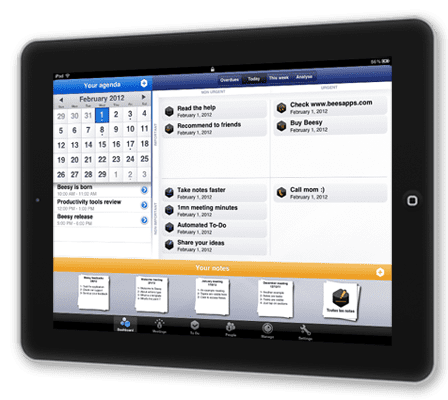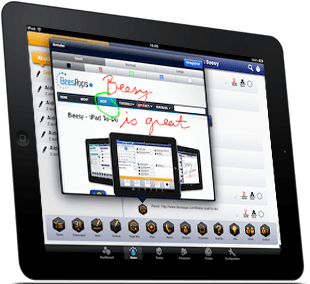 Taking Notes with Beesy
Using the Notes tab, you'll be able to type notes in a very efficient way.
In Beesy, your notes have Topics, Participants and Task items.
Typically, all topics in a meeting are set by the meeting agenda.
Task items will enable you to easily structure your notes while you type.
These are the icons in the toolbar above the tabs such as:
Task
Deadline
Comments
Draw
By adding Task items as you type, you will easily structure your notes and Beesy will be able to automatically generate To-Do lists for you, with no extra work.
Check the How-To take notes using Beesy to understand how Notes works
Your To-Do List with Beesy
With this tab, you will access all the task items that were generated from your notes.
Browsing by type of task, you can easily access the relevant information from your notes.
You can also edit each type of task to match your own requirements and if needed you can export your tasks as well.
Check the How-to use the To-Do manager to discover how Beesy helps you with task management.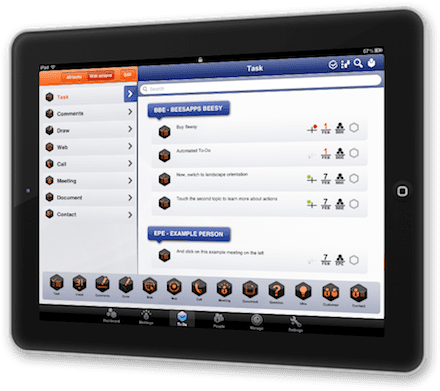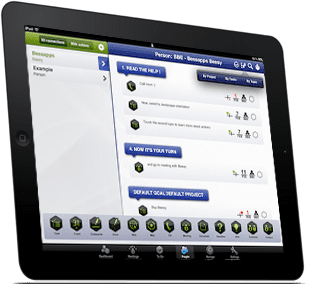 Following Up On People
Beesy is able to manage contacts so that you can assign Tasks to people.
Using the People tab, you can create or import contacts into Beesy.
Once you have assigned tasks in one of your notes to one of your contacts, Beesy will automatically generate a To-Do list for this person. Again with no extra work on your part.
You'll then be able to browse all that person's actions in a single place. If you update one of them, it will be updated everywhere in Beesy, saving you time in the follow-up process.
Check our How-to use People Management in Beesy to learn how to manage your people.
Project Management
While already providing you with a To-Do view and a People view, Beesy will also let you define your own projects.
By simply assigning a meeting note, a topic or a task to a project, you will be able to manage your activities based on your own projects. Beesy will gather all related tasks to this project for you, from any note you took. You will drastically save time in your project reviews.
To further help you achieve your targets, Beesy also allows you to group projects by Goals so that you can manage your own targets.
Check our How-to use Project Management on iPad using Beesy to understand how to implement projects in Beesy.