When talking about business productivity with an iPad, one of the first question is always: how do I connect my iPad to this projector and how do I use my iPad slideshow with a projector ?
There are currently 3 ways of doing this, while we all wait for the first AirPlay compatible pico projectors.
1- Use an Av cable as advertised by Apple on their site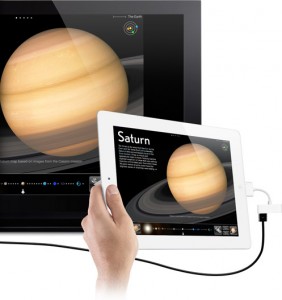 Very efficient and works with every projector with an HDMI connection.
It's the most inexpensive solution to be able to use your slideshow on any device, from a projector to a large TV screen.
Other advantage, you do not require to carry with you extra hardware, just the cable.
BUT, you'll still be tied to the projector and the HDMI cable.
Check it on Apple online store
2- Use an Epson projector
Epson recently anounced a new app compatible with a range of their product to actually broadcast your iPad slideshow to any Epson compatible projector.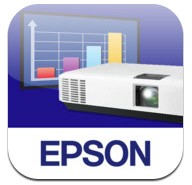 This solution is well suited for business people on the move, that carry on their own pico projector with them.
It's wirefree with no more configuration hassle at the beginning of your presentation.
2 main drawbacks at using this solution:
– Epson does not have a pico projector to carry with you all the time. Their slimmest is still an extra weight to carry when traveling.
– The app is not compatible with video and animations.
3- Use AirPlay and an Apple TV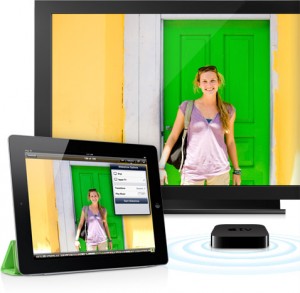 Since iOS 5, you have the ability to run AirPlay on a number of Apple device and mirror one device screen to another.
With this solution, you need to buy and extra device, quite light: an Apple TV 2.
Carrying this with you and an extra HDMI cable, you can actually display your slideshow on any HDMI compatible device.
Simply plug your Apple TV to the display using HDMI and use Airplay to mirror your iPad screen to the Apple TV.
Here you go, it's magic, you can wirelessly slideshow.
Easy to carry with you, it's still requires you to buy this extra hardware. But at 99$, to be compatible with any display device, i would say it's a no brainer.
And even if new projectors will feature embedded Airplay, it will be long before you can use any display out there while on the go.
So I would definitely recommend any traveling business man who needs to pitch a lot to carry on this extra device with him.
In the business world using your iPad slideshow with a projector will make get more productive.
With our business Note Taking/ToDo iPad app, Beesy, business traveler will show their ToDo, tasks and priorites everywhere in meetings.
Keeping productive with Beesy anywhere is our priorities.