A productive Home Office with Beesy and Teams
" Around 60% of jobs will be "teleworkable" by 2030 and one third of managers will be concerned. " Source: LCI
In view of recent events that have occurred in France and around the world, the practice of telework has become a necessity, a trend. Whether at home, in a café, at the airport or on the train, the single workplace no longer exists. How to adapt to this new way of working?
Find here all our solutions to implement an efficient home office with your teams.
Home office issues to be taken into account :
The ability to organize one's objectives and to follow their progress.
Autonomous collaborators who easily give visibility on their progress
Maintaining effective communication while in home office
1 solution to meet all these challenges: MICROSOFT TEAMS + BEESY
Beesy, the smart collaborative solution to drive your business from A to Z and Microsoft Teams, the teamwork platform to easily collaborate and communicate with all your colleagues.    
Teams responds to communication problems with its live chat, structures projects and objectives through channels and allows for virtual meetings.  
Access to data is simplified: everyone can easily find their files by team and has access to different applications without leaving Teams (Excel, OneNote, etc.). 
Teams allows you to keep in touch with your teams, brings people, conversations and content together to collaborate more easily and to structure your activity. 
For each channel created in Teams, Beesy will capture all the actions to be carried out and aggregate them at the level of each collaborator.  
Beesy's artificial intelligence allows you to automatically create all the action plans resulting from your various exchanges (meeting, chat, email). Beesy consolidates all action plans and information, meeting notes by person, project and objective and allows you to follow your activity simply from any conversation or team in Teams.
With Beesy, you control the progress of your collaborators and you centralize all information to simplify inter-team communication.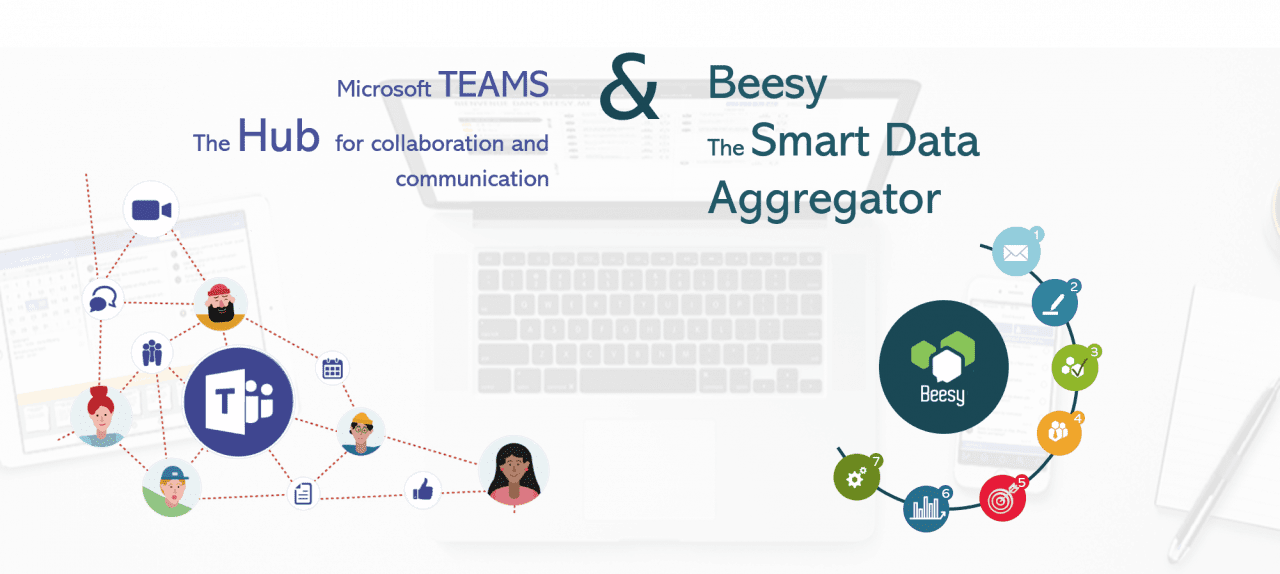 The complementarity of Beesy and Teams will lead your teams to gain in efficiency without difficulty and will save you time to go further in the organization of home working with your team.
The obstacles and fears of home office work:
A lack of confidence from leaders
According to the Odexa study, the lack of trust of managers towards employees is the main obstacle to the development of home office (lack of trust means that the manager cannot know precisely and in real time if his collaborator is carrying out the tasks he has to do or not).
Poor communication / collaboration
That is probably the most important point. Indeed, communication that is not fluid and, moreover, disrupted by a lack of coordination and collaboration between colleagues, is synonymous with major disruptions.
Clearly, from a distance, maintaining good communication is crucial to the smooth running of operations. Without it, collaboration can no longer be effective or even become non-existent.
Team spirit at half mast…
47% of managers fear a loss of their workers' team spirit
Indeed, the lack of interaction with other members of the company can quickly make the teleworker feel detached from the company and even mistrustful of colleagues: 65% of employees say they suffer from social isolation and loss of team spirit; and 62% are concerned about the opinion of others, who may think that a teleworker would work less if he or she were not at the office.
Problem of access to data
Your collaborators must be able to access all their data remotely, wherever they are. Online storage solutions such as the cloud make it easy for remote workers to access shared files and corporate documents.
Concretely, how to do it?
#1: Manage your collaborator as if he were in the office 
First of all you define and share your objectives with your collaborator during a monthly or bimonthly meeting, by videoconference in Teams for example.  
ORGANIZE THE WORK OF YOUR COLLABORATORS 
You configure your MS Teams with a personalized tab to follow with your collaborator his progress on the current objectives.  
When you talk to your remote employee, take notes in OneNote for example about the organisation and the goals you want him to achieve, then send your notes to Beesy, who will give you a professional report and above all will automatically extract the action plan you want to follow with your employee.
At the end, you will find all the information centralized in your Teams tab.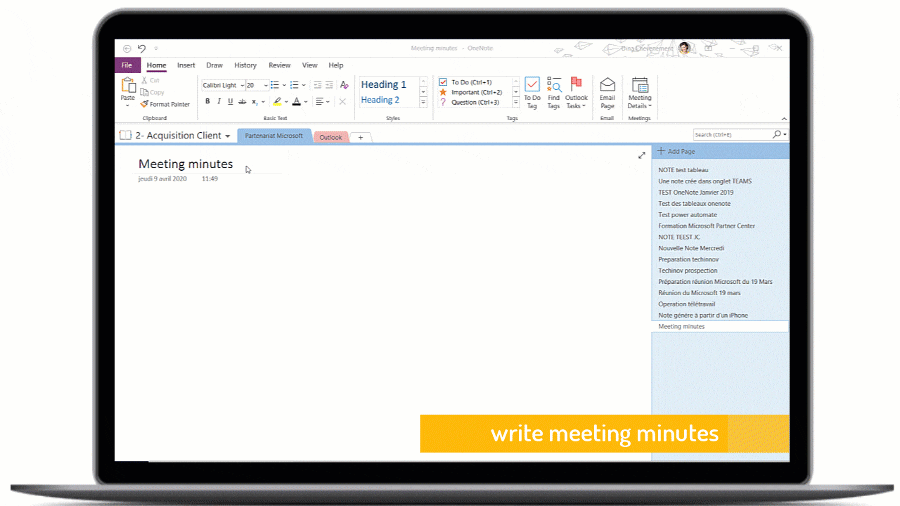 Then create another tab to graphically visualize your collaborator's progress.  
Nothing could be simpler, select the "Project Report" view to obtain a graphical report of the entire activity. 
At a glance you can see how his tasks are progressing, with a weather forecast based on the number of overdue actions.  

If you need more control with daily vision, 
> IN THE MORNING ask Beesy to give you a summary of his overdue actions: this way you identify if there is a problem and a need to make a synchronization point. Ex: send me the list of Marc's overdue actions on the Web Marketing project. 
> IN THE EVENING, in the same way, quickly check if your collaborator has made progress on his current actions by asking the Chatbot Beesy to send you the list of his completed actions of the day. Ex: what are Dina's completed actions today.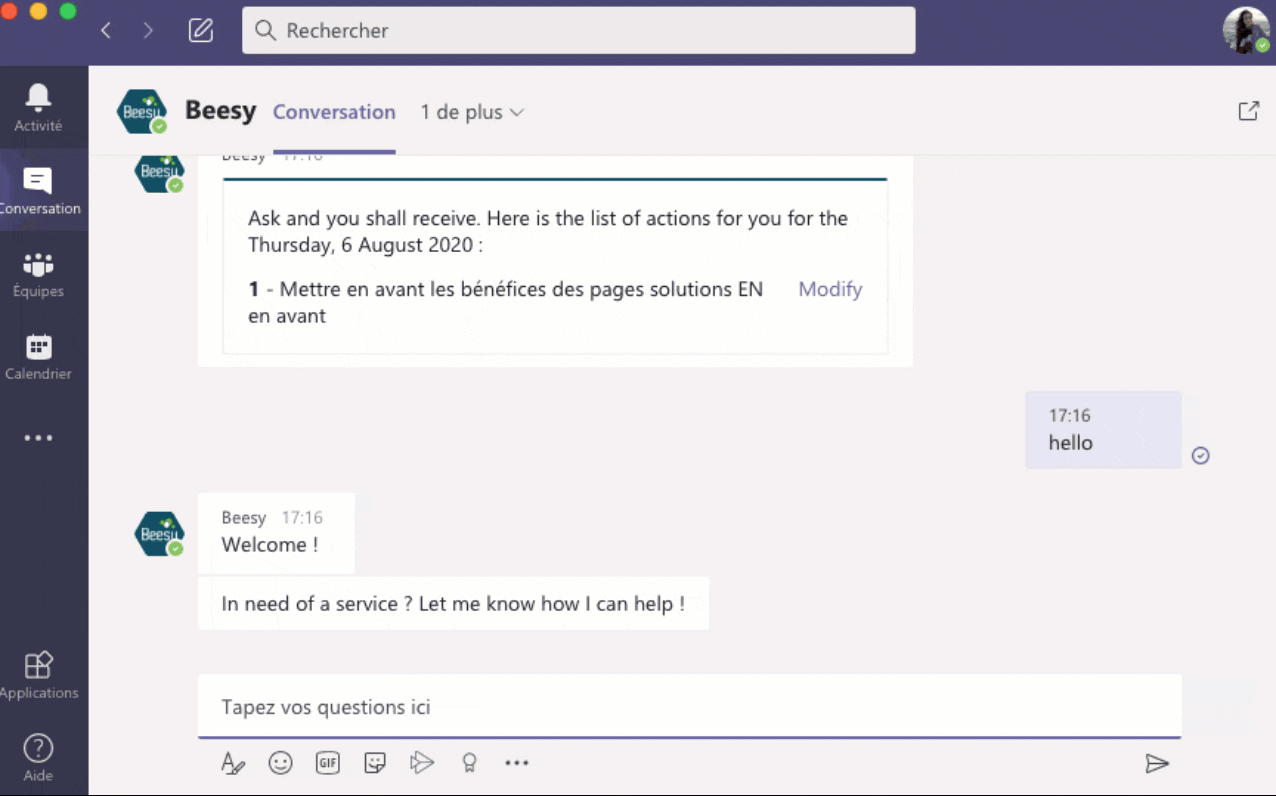 #2 : An independent collaborator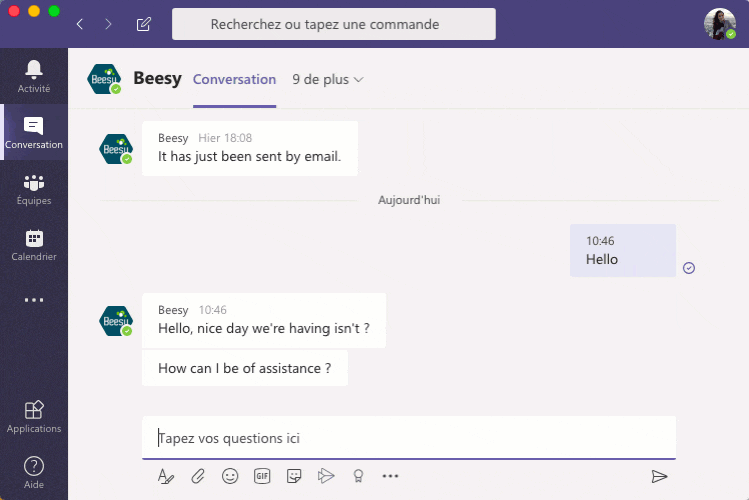 At any time and in a very simple way, he can access his action plans by simply asking Beesy what actions he has to perform during the day. If he has questions or to share ideas and insert files, he exchanges live from the online chat with you or the teams, as if he were physically present in the office.  
He chats with the Chatbot Beesy to manage for example: his To-Do, meeting notes, objectives and projects… Ex: "send me the list of my urgent actions for the Microsoft Teams project", "My completed actions from yesterday"… 
Your collaborator can also give you more visibility on his activity by updating his actions (closing completed actions for example) or by commenting on them if you need to notify something or additional information.  
If he wants to send you a report, he can simply ask Chatbot Beesy to report on all his closed actions of the day, or for example to send you a progress report of his activity.  
Beesy's Artificial Intelligence automatically generates reports in a professional format with all the actions requested and comments.   
#3 : Remote teams aligned with goals
Setting up team meetings to maintain cohesion and make everyone responsible for their projects and objectives is essential when working at a distance, which is why you must : 
1) Create a team channel in your MS Teams in which you can find your team meeting notes to be done by videoconference on a weekly basis. 
By piloting your team meetings every week, teams are aware of the "who does what", objectives and action plans are shared to facilitate teamwork even at a distance.
2) In this channel you will find your Note tab and your Project Report tab to view all projects and everything the team has to do.
Each individual takes responsibility for the missions to move the collective forward. You can implement this method for the management of a team but also to monitor activities.  

Clearly, you can follow your structuring activities with dashboards.  You create a channel for each function for which you want to ensure continuity (e.g. finance, operations, HR, sales…) with a dashboard. This serves as a steering indicator to easily monitor your strategic activity even with remote collaborators.  

Even with disruptions related to teleworking, you are able to know everything that is happening within your organization.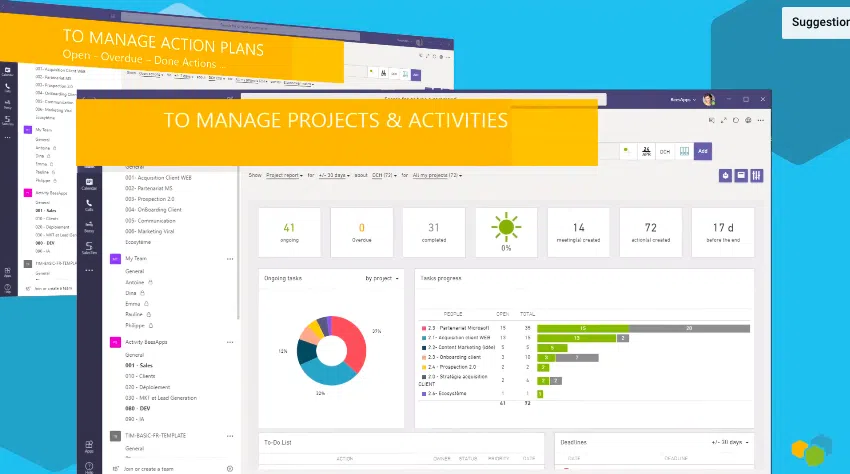 In short: What are the main advantages of using Beesy and Teams for home office work?
Organization of information from the tools
Automatic extraction of action plans from meeting notes
Automatic creation of action plans during conversations in Teams
Gain of 30 min per meeting
Automating Progress Overviews
Management of recurring meetings
Employee Relaunch
Automated project steering committees
Automation of one-to-one meetings
1 sentence to relaunch my collaborators or prepare a meeting with them
Simplified management of the entire activity
Cross reports and syntheses in 1 click or 1 sentence:
By project
Per person
Customizable filter
My collaborators make their activity reporting in 1 click
 "In 2017, a Stanford study tracked two groups of employees: one who had been working from home for nine months and one who had been working only at the office. The results revealed that the group working at home was 13% more efficient, with improvements in concentration, retention and overall happiness. » 
In solidarity with companies that do not yet have a solution for managing telework, we have decided to offer Beesy during the containment period. Similarly, Microsoft Teams offers 6 months of premium subscription to companies.
Would you like to implement your home working solution with Beesy and Teams?