Beesy.me Team: Manage your notifications
How to manage your notifications with Beesy ?
Manage in real time your activity with your team
The notification system was completely improved to offer you a stronger collaboration experience. Use your rules to sort your notifications and keep those which really matter for you. The Beesy notification center facilitates those needed steps for your activity success: you can better follow the progress and the discussions of your actions, be notified on the important events regarding to your tasks where you are mentioned or the actions you delegated. How to manage your notification settings? Beesy allows to every user to manage 3 notification categories:
Action follow-up
Delegation
Sharing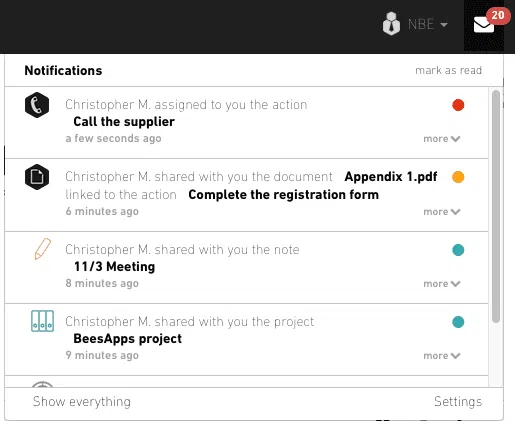 Notifications on Beesy and/or by email: It is up to you !
How to set up your notifications ?
You can easily activate your notifications to receive them by email or directly on the web on Beesy.me, or just view the event in your activity history with an alert. You just have to access to your Settings and select "Notifications settings". Then, you just need to activate or deactivate the checkbox according to your choices in accordance with the different kinds of notifications.
Click on « View » to see the detail of notifications about this type of action:
The first choice is about the notifications on the web, activate it to be notified directly on Beesy.
The second choice allows you to receive the notification in your mailbox, very useful if you want to be notify when you are out of Beesy.
Finally, the last choice refers to the action alert. If you find that the notification is important, activate it. On the contrary, if you don't care and you don't want to be disturb by this kind of notification, deactivate it!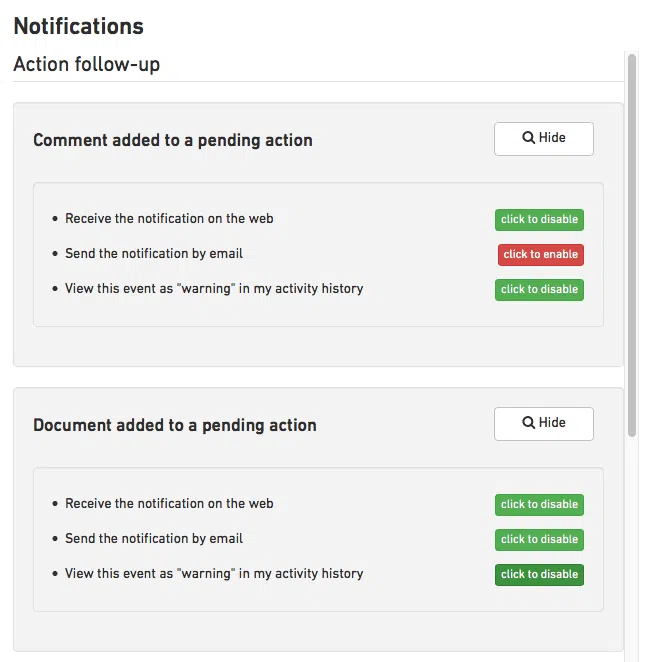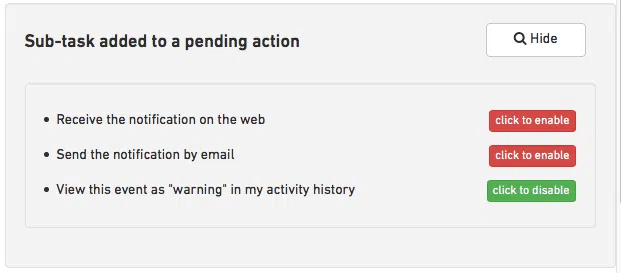 Keep an eye on your project!
Comment added to a pending action
Each comment about an action you follow will be notified. Useful to follow an engaged discussion, the task progress or provided precisions.
Document added to a pending action
Activate this notification to be warned if your collaborators add some documents on a followed action to offer more content to yours actions.
Sub-task added to a pending action
Be notified for a sub-task addition on your followed actions.
An action has been closed
You assigned an action to your collaborator and you want to know when it will be complete? Activate this notification.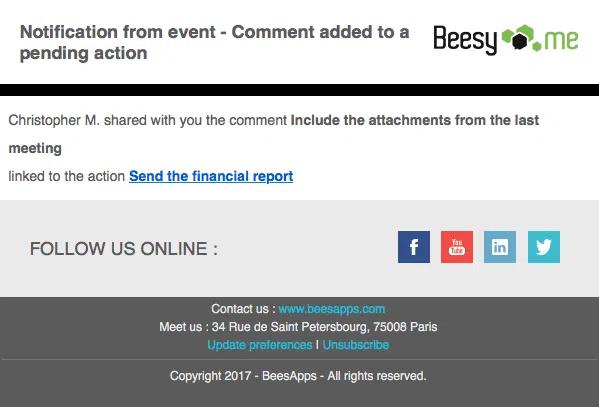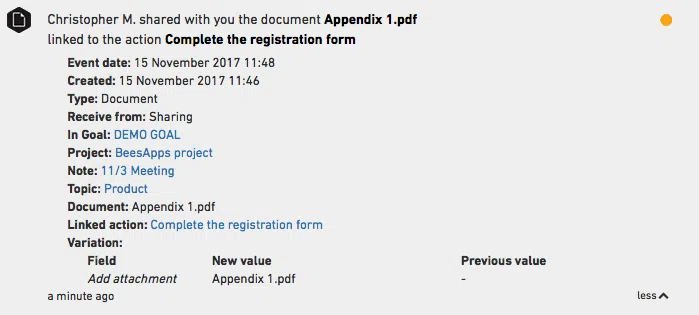 You received an action
Someone assigns you an action on Beesy? Just be informed.
Due date modification for an action you received
Someone changes your action deadline? Beesy will alert you.
Content modification for an action you received
This notification allows you to be warned in case of text modification of your actions.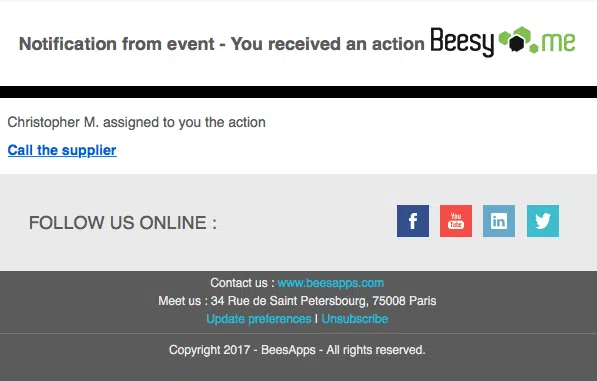 Be updated when when a note, a project or a goal is shared with you on Beesy.me Team
Everytime that a Beesy.me Team user shares a note, a project or a goal with you, you will be automatically be apprised, no need to run after your collaborators to get some updates just before the project review.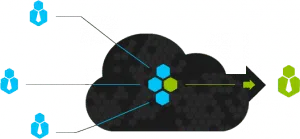 Discover all the usecases
No matter your issue we have answers