GET THE MOST FROM YOUR TEAM
Share targets. Coordinate action plans. Follow-up in real time.

Learn how teams get things done
Give you the opportunity to become efficient in less than a meeting.
"The best project management tool. Period. I have tried lots of ToDo and Project Management Apps in the past but Beesy tops them all. Once you get used to the interface, there is nothing that can't be tracked. I have introduced it to several coworkers and they have all dropped their current Project Management / ToDo apps and moved over to Beesy. Well worth the money !"
"Best app for managing projects and meetings! If you have to run a project and host meetings to get things done, this is the best app I have ever used. As a manager, it is a must have. It produces beautiful meeting minutes and project reports and makes it a breeze to track and assign actions to people."
"Beesy is by far the best app I have on my iPad. I thought I was organized prior to finding this app. I was using a paper planner and thought there could be no way I would ever change. The task organizer and meeting notes are life changing! I know – dramatic. Just try it, you'll see"
Automatically Delegate Actions to Team Members
With Beesy.me, you will be able to easily assign actions to any of your team members,
while your taking notes or when building their ToDo list with them.

Assign actions to team members and share the related context (note, topic and project).

Automatically notify by email or Web notifications your contacts of their actions, Notes or Projects shared.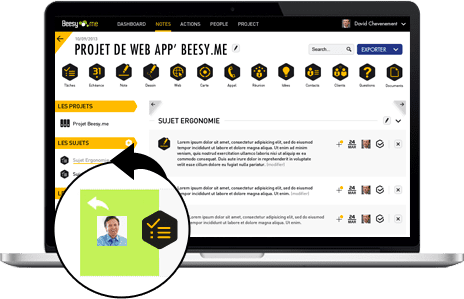 Easily Manage Collaborative Projects
All your information as well as the one from your team is now consolidated online
so that you can easily browse notes, people and projects.


Share notes with participants during meetings and add action items to the agenda.
Quickly Get Real Time Updates on Actions
Using our collaborative offer, members of your teams or the project will be able to update their actions
and automatically send you the update in real time.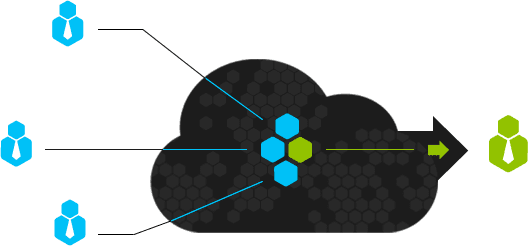 Questions about teamwork with Beesy?
KEY FIGURES
Most managers have about 62 meetings a month.
That's 1000 hours spent in a meeting room every year, and everyone of them takes up some of your time to write down the minutes and track the action plan.
% of users recommanding Beesy

90%

90%

% of users saving 15 minutes / day

70%

70%

% of users saving 30 minutes / day

40%

40%

% of productivity gain / day

12%

12%
Want To See Beesy In Action?